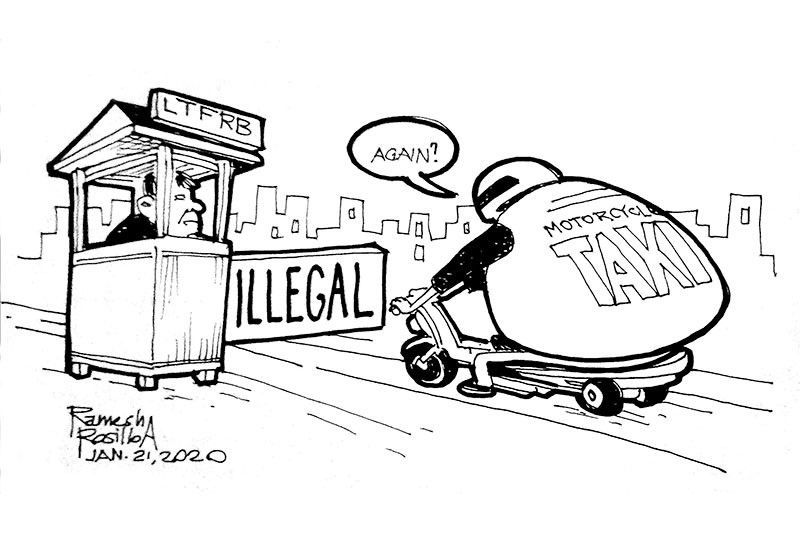 EDITORIAL – A flawed study from the beginning?
(The Freeman) - January 21, 2020 - 12:00am
Starting next week, motorcycle taxis will be illegal and their drivers subject to the seizure of their vehicles if found ferrying passengers.
This after the Land Transportation Franchising and Regulatory Board said their technical working group studying the feasibility of motorcycle taxis recommended ending the operation of motorcycle taxis --without coming up with a conclusion of the study.
The TWG also said their only consideration for the study was how safe motorcycle taxis are, and apparently nothing else.
Now we cannot help but wonder if the study may have already been flawed or lacking to begin with. There was no study on whether or not motorcycle taxis helped ease the transport problem, or about how canceling such an operation will impact the hundreds of thousands who now depend on it one way or another.
Of course, we cannot totally blame the TWG for this shortcoming; determining how these vehicles help commuters and finding out how motorcycle taxi operations can be a viable livelihood isn't their field of expertise.
Whoever commissioned or called for this study should have asked for these factors to be taken into consideration in the first place. Yes, safety is a big factor to consider, but when you look at how the transport problem has affected other aspects of life --the way we study, play, and work-- a study on the feasibility of motorcycle taxis should have had other considerations.
The timing of their announcement also leaves much to be desired. As the drivers had been told they had until March 23, 2020 to operate, many of them expected to be able to support themselves or their families until this time. Now they have been given less than a few days' notice that they have to find another job because their livelihood has become illegal.
At the very least, the LTFRB should have also stuck with the announced extension. There's no doubt that many of the legal motorcycle drivers right now will still turn colorum to support themselves and their families. Our traffic enforcers, who already have their hands full manning our horrendous traffic, will have yet another task to fulfill.
For sure, motorcycle taxi drivers and their supporters will not take this sitting down. Let's hope the issues are addressed as soon as possible.