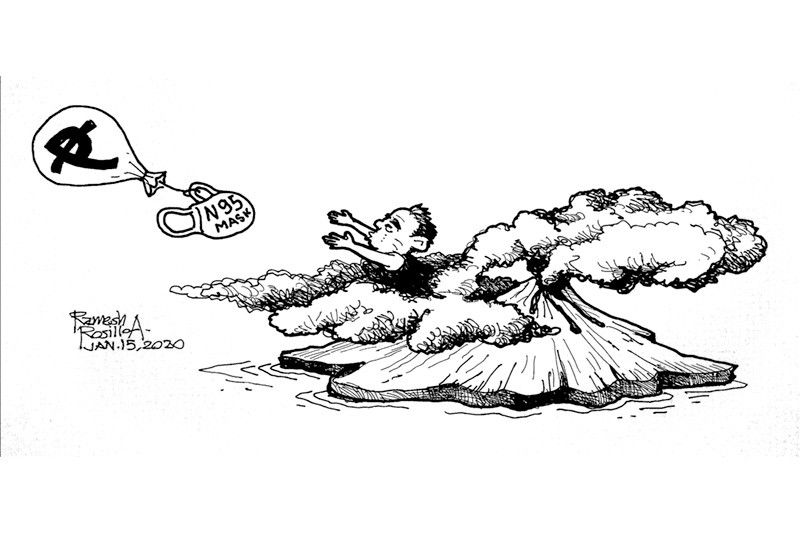 EDITORIAL - The victims, the valiant, and the vultures
(The Freeman) - January 15, 2020 - 12:00am
It's nice to see Filipinos helping other Filipinos in times of need.
There is no shortage in the main media and social media of news about the ordeals our countrymen directly affected by the explosion of Taal Volcano are suffering. This has given rise to occasions of people also literally rising to the occasion.
There was the man who distributed face masks for free in the street. The carenderia owner who offered free food to evacuees. There was the man who took it upon himself to hose down passing cars with windshields full of ash from ash fall. There was also the man who returned again and again with his vehicle to evacuate those who had no way of getting out of danger areas.
There are many more people whose selfless acts will never be known. People like these make us feel proud to be Filipinos and, to use modern terms, restore our faith in humanity.
On the other hand, though, there are those who take advantage of the situation to profit from the suffering of their countrymen.
Aside from the basics like food and water, one of the biggest needs is face masks and dusk masks. One can even say it might be a more important need, because while evacuees only need to drink or eat every once in a while, they do need to breathe all the time.
But what do some people, drug stores, or other establishments do? They jack up the prices. Face masks, usually just costing just a few pesos, are being peddled at P20 each. The more protective dust mask, which is supposedly available at only P25 to P30 each, are now being sold at P200 each.
The government has begun cracking down on sellers who have jacked up prices of face masks and dust masks. However, they should also go after others who are taking advantage of the calamity to enrich themselves at the expense of those who are in terrible need.
Those who sell food, water, and other basic goods at inflated prices to those who are already suffering are in effect compounding that suffering even more. There should be no clemency where the law is concerned for such vultures.