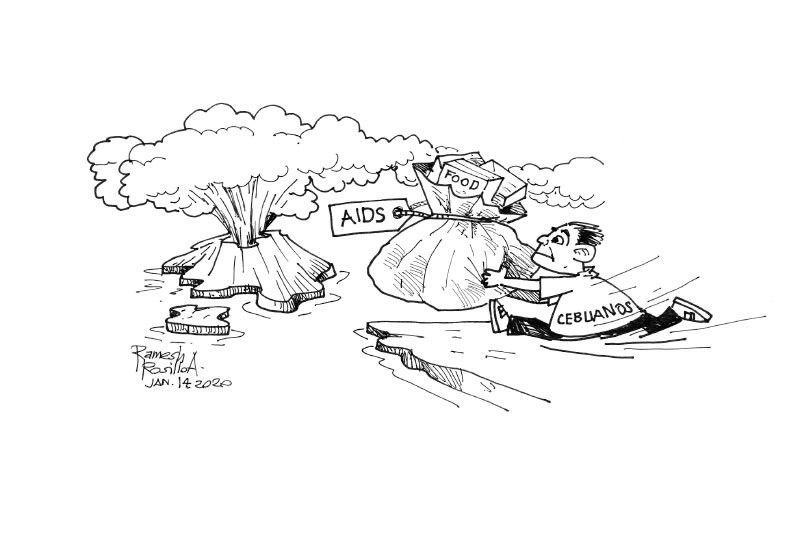 EDITORIAL - Thankful yet helpful
(The Freeman) - January 14, 2020 - 12:00am
Taal Volcano seems to be waking up after decades of slumber and is causing havoc in certain parts of Luzon.
Thousands of people have been displaced and their daily lives put on hold after being advised to evacuate. Schools, stores, businesses, government offices, and other institutions have been closed. Even the mere act of commuting is becoming hazardous, what with ash fall making visibility in some areas a problem.
In other areas even the mere act of breathing has even become dangerous.
However, for us here in Cebu who are busy with celebrating our Sinulog festivities and observing our religious obligations for the Fiesta Señor, it might seem like these are events happening a world away.
While its true that Taal is hundreds of kilometers away, it will be folly to claim we will not feel its effects. Consider that the winds can sometimes blow ash over a wider area than anticipated.
Those in their thirties or older may still be able to recall the ash fall that followed the Mt. Pinatubo explosion of 1991. Many streets in Cebu were covered in a fine, light-colored ash that persisted for many weeks.
And to think Mt. Pinatubo is even further up north from Cebu compared to Taal Volcano.
During this Fiesta Señor let us not forget our brothers and sisters in the areas affected by this latest disaster to visit the Philippines. It would help for us to pray for them to the Holy Child.
On a more immediate note, we should also send them whatever we can afford to spare when it comes to the things they need, the foremost of these being food packs, water, and N95 face masks, which are fast running out in stores in the affected areas.
While we should be thankful we are not --or at least not yet-- affected by the ash fall from Taal, we should also be helpful to those suffering as best we can.