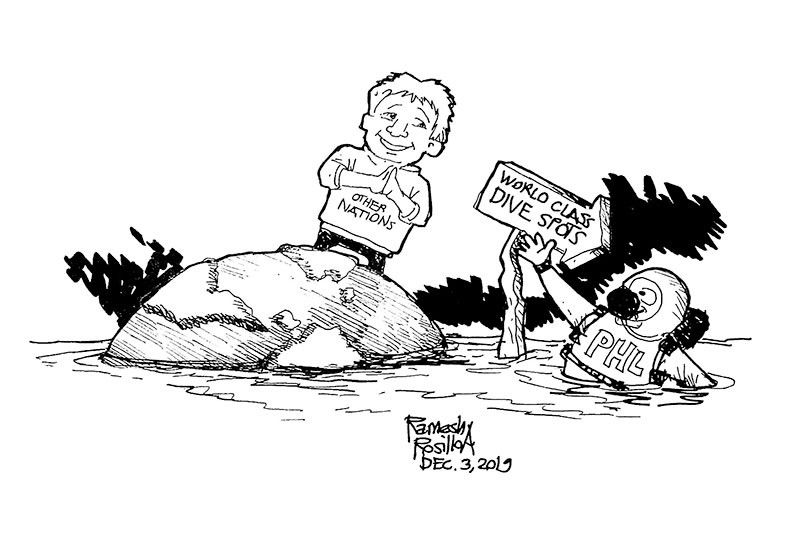 EDITORIAL – Diving capital
(The Freeman) - December 3, 2019 - 12:00am
With at least 7,000 islands, there's no reason why the Philippines cannot be a major attraction for diving enthusiasts from around the world now that the country is fast catching up with its Asian neighbors in the race for tourism supremacy.
Cebu, Boracay, Bohol, and Palawan are just few of the areas in the country that can be a magnet for foreign tourists seeking an underwater thrill. It is unfortunate, however, that the government has never done enough to promote these areas.
As the country slowly picks up pace in its drive to entice more international visitors, some of our diving sites have started to gain worldwide attention. In fact, many of them are now being recognized as emerging tourist destinations.
As per report by The Philippine STAR the other day, the Philippines was, for the first time, named the 2019 World's Leading Dive Destination at the recent WTA Grand Final Gala held in Oman, besting eight other global destinations.
"Dubbed by marine experts and scientists as the heart of marine biodiversity in the world, our country is home to the highest concentration of coral reef life and astounding variety of marine species. This latest recognition is a validation that the Philippines is truly a premier dive destination," said Tourism Secretary Bernadette Romulo Puyat.
The recognition came after the Philippines, for the first time, bagged Asia's Leading Dive Destination award for Asia and Oceania in Vietnam in October. Of course, we hope the country can duplicate its achievements next year and in the coming years.
It is good the world is beginning to take notice of the country's dive sites, which are certainly comparable with the best in the world. Therefore, the government needs to embark on a massive campaign developing our diving tourism.
If other countries managed to cash in on their tourism industry as a leading source of revenue, then there is no reason why the Philippines cannot take advantage of its beaches and dive sites that can potentially put the country's tourism industry on the world map.