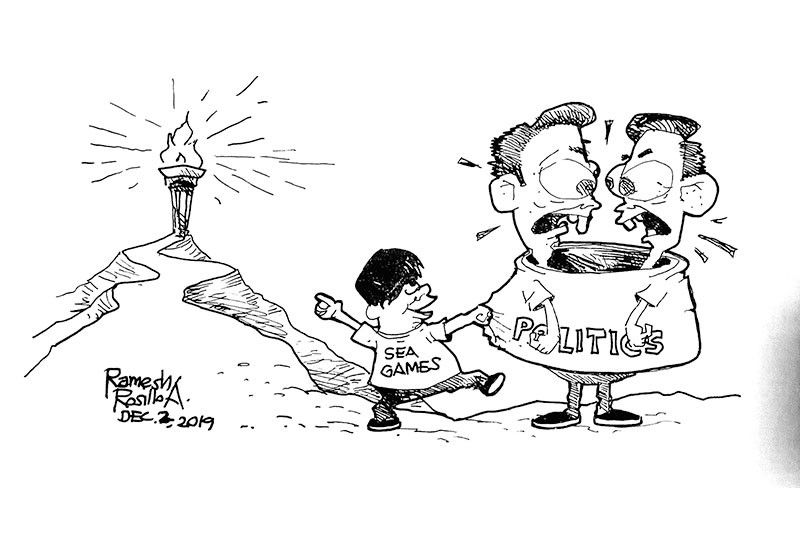 EDITORIAL – For now, let's cheer on our athletes
(The Freeman) - December 2, 2019 - 12:00am
It was not an easy road the opening of the 30th Southeast Asian Games. Any Filipino with access to social media know about the blunders that happened; the delayed transportation arrangements, the botched accommodations, the issues regarding the food and water supply, the list was quite long and embarrassing.
Don't forget the issue about the P50-million "kaldero."
However, with the opening program, it seemed a new level of presentation was reached. Everything ran smoothly; the performance of the national anthem did not invite criticism, the cauldron lit up despite fears it would fail, and most of all, the president kept his speech very short and to the point, without mentioning anything that would again make him controversial.
Now that the games have begun in earnest, let us sit back and enjoy it for a while. We committed to hosting the games, now let us focus on it. We deserve a break, after all, all that seems to be in social media and mainstream media seems to be bad news these days.
For sure, after the games are over and done with, we can bicker and fight all we want. Heads should still roll about the overpriced "kaldero" as well as the controversy over the budget for hosting the games. Do not forget the botched arrangements for transport, accommodations, and food that practically made us lose face before the rest of the world.
However, we should not bring out the dirty laundry for our guests to see while they are still in our house. By all means, we should air that dirty laundry out all we want, but only after the guests have gone.
There will be a time to point fingers and yell accusations, but now is not it. Not while the games are still being played. If there is any pointing and yelling to be done right now, it should be pointing to finish line and yelling cheers for our athletes to do their best.
This actually isn't a hard thing to do. Have you noticed how sports can unite Filipinos? You only have to observe how crime seems to drop whenever Senator Manny Pacquiao has a fight. How an entire country seems to cheer as one during his matches.
Maybe there is something to this "We win as one" slogan after all.