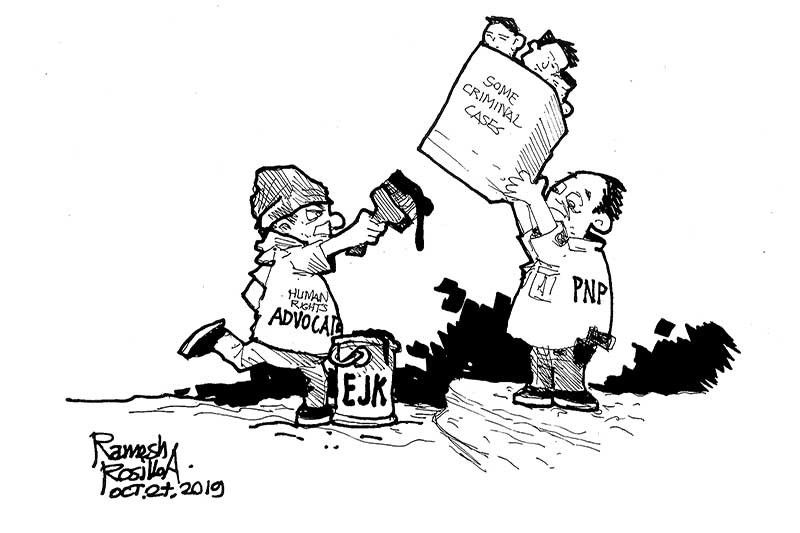 (The Freeman) - October 24, 2019 - 12:00am
Authorities have been expected to deny any extrajudicial killing in the death of four of at least 15 suspected robbers who stormed a shopping mall in Mandaue City and carted away more than P100 million worth of jewelry and cash.
Cebu Police Provincial Office Provincial chief Colonel Roderick Mariano already assured the public that no rubout happened during the follow-up operation in Bogo City that left four of the alleged robbers killed.
However, the Commission on Human Rights has smelled something. "It is a sad reality that the operations of the police ended that way," said Arvin Odron, Central Visayas director of CHR, on the latest robbery incident.
Pursuant to its constitutional mandate, the agency's probe will revolve around the circumstances regarding the death of four suspected robbers, whether or not the police had followed the proper procedure in the operation.
Of course, the CHR-7 can always have the time investigating the incident. It's the agency's job to scrutinize it to determine what was really the real score surrounding the death of those robbery suspects.
And yes, for fairness, the human rights agency needs to hear the side of policemen involved in the incident. In any investigation, impartiality cannot be established without hearing both sides.
This is not to say the CHR-7 is expected to apply the same approach it used in its other investigations into other incidents finding the police or military gravely responsible for excessive use of force, which the commission has become known for.
As the public is eager to know whether or not a rubout occurred, the CHR-7 needs to display objectivity in the probe. There may have been lapses in the police operation, but the commission should at least be factual enough in its quest for a fair judgment.