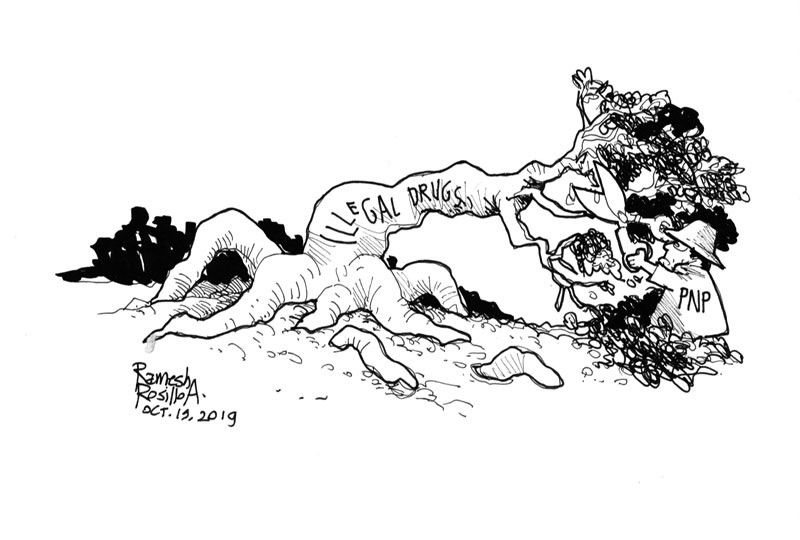 EDITORIAL - A golden opportunity
(The Freeman) - October 19, 2019 - 12:00am
The police are to be commended for the huge haul in drugs just recently when they arrested two persons in a joint operation conducted by various law enforcement agencies last Thursday dawn along V. Rama Avenue, Cebu City.
No doubt taking drugs and the people that deal them off the street is a one way to take drugs away from the hands of those who have succumbed to their vile influence.
However, questions still beg to be answered. Why does the supply of drugs in Cebu seem inexhaustible despite the vigilant efforts and continuous operations of our law enforcers? Why do so many people still choose to get involved in drugs as dealers or users? What is being done to prevent this problem in the first place?
Perhaps other means of fighting drugs, like findings ways to curb the demand for it are in order. Going for the problem at the root rather than at the stem.
The coming of a new Police Regional Office-7 in the person of Police Brigadier General Valeriano de Leon, presents the perfect occasion for law enforcement officials to explore more effective and successful approaches to tackling the drug problem.
Of course, the police should not face this task alone. Any effort to finally end the drug problem will not just involve the police, but also the other sectors like the government and the public as well. And the police also have other things to do aside from just focusing on the drug problem, what with the daily dose of crime this country sees.
However, it would be ideal if the cue comes from the police not just because they are authority figures but because they are the premier law enforcement body. They are already familiar with the "enemy" and how he works. And the assumption of a new leader of the regional police force presents the golden opportunity to introduce new programs or come up with more effective ways to combat the drug menace from other possible angles.