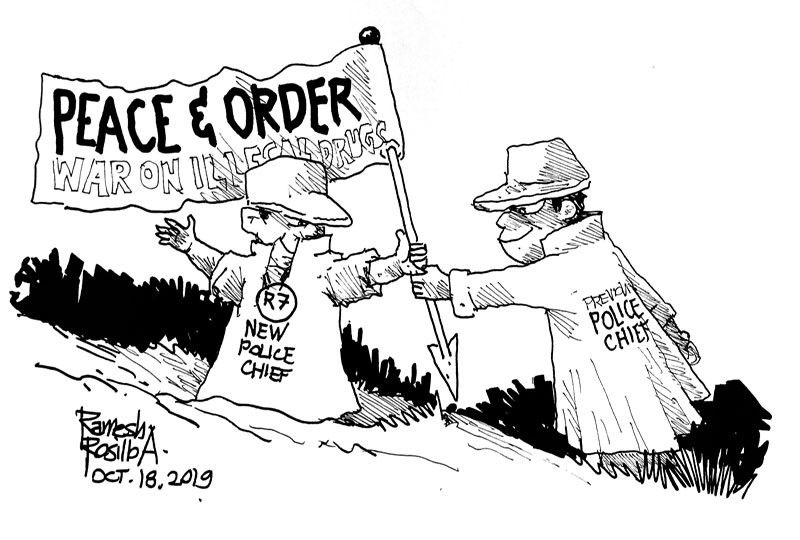 EDITORIAL - Another brand of leadership
(The Freeman) - October 18, 2019 - 12:00am
Central Visayas has a new police chief in the person of Brigadier General Valeriano De Leon who will replace Brigadier General Debold Sinas in a major revamp affecting high-ranking officials of the Philippine National Police across the country.
Following a year and four months of calling the shots at the Police Regional Office-7, Sinas is now at the helm of the National Capital Region Police Office, replacing NCRPO director Guillermo Eleazar, who is the new head of the PNP directorial staff.
Prior to his PRO-7 assignment, De Leon headed the PNP Firearms and Explosives Office (FEO). A member of the Philippine Military Academy (PMA) class 1989, his previous assignments included a stint at PRO-11 in Davao City.
Whether or not De Leon will continue Sinas' hard approach toward peace and order campaign remains to be seen. But one thing for sure is that the new regional police director will be expected to have his own brand of leadership.
However, whether he likes it or not, De Leon needs to duplicate Sinas' style of campaign against the illegal drug trade to continue to momentum. But he must be reminded that there's no need for him to go on diving below the belt in the rush to accomplish the mission.
Yes Sinas had accomplished more than Cebuanos have expected of him with regards to the war on drugs. But he cannot deny the fact that his PRO-7 stint had been seriously tainted by allegations of extrajudicial killings.
De Leon does not need to push the button heightening the drug crusade if it would only yield more dead bodies. Just because he has an urgent mission to accomplish doesn't mean casualties are inevitable in the campaign.
In police operations, there is such an unassailable thing as maximum tolerance. However, the problem is that many in the law enforcement agency prefer to violate this sacred rule and go beyond the boundaries.