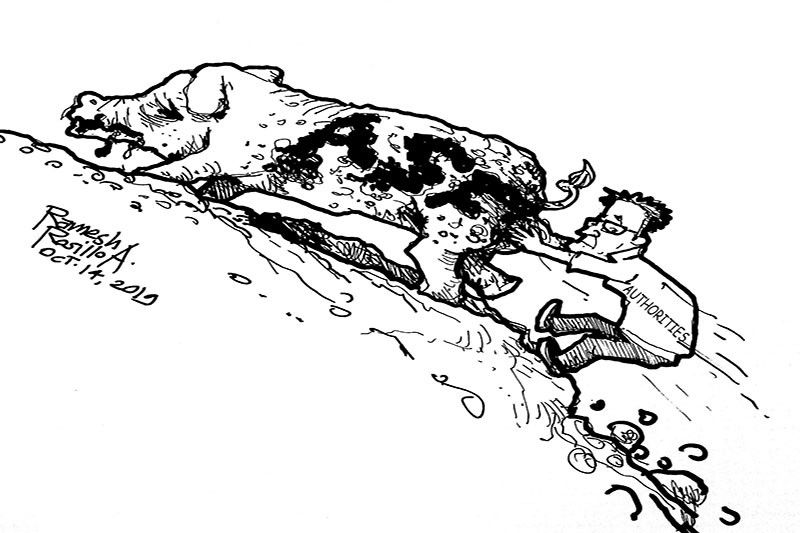 EDITORIAL – A matter of time
(The Freeman) - October 14, 2019 - 12:00am
Thousands of pigs were culled in the province of Pampanga in the latest mass killing of the animal infected with African Swine Fever virus in the country following the discovery of the ASF several months ago.
After months of taking measures preventing the entry of ASF into the country, the virus is now on a rampage in several areas in Luzon, particularly Rizal, Pampanga and Bulacan, as the Philippines now officially enters the list of countries with swine fever.
Agriculture authorities cannot deny the fact that whatever they had put in place against the ASF was not enough. Of course, a country with limited resources such the Philippines is always susceptible to outside diseases.
Now, as the ASF spreads to other areas in the north, it would just be a matter of time before it reaches other provinces down south. And we don't know whether Visayas and Mindanao have all the defense they need in the fight against ASF's entry.
Well, for its part, the province of Cebu has already implemented measures against the ASF. These steps include a ban ordered by the provincial government on pigs and pork-related products from Luzon and from countries with presence of the virus.
But we don't really know if those preventive measures the Capitol has implemented against the swine fever include tight security at different ports around the province, where all of its municipalities and cities are situated along coastal areas
Of course, the Capitol's move should include directive from the executive department requiring all local government units to strictly patrol their respective territory against the entry of pigs and pork products.
We are hopeful that Cebu is in the right direction in the effort to prevent ASF's entry into the province as far as its security implementation is concerned. That is because a single breach would only mean the campaign was a total failure.