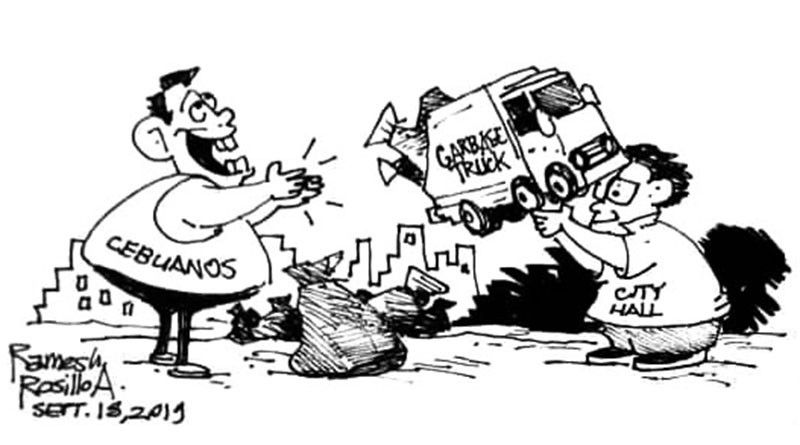 EDITORIAL - Garbage disposal
(The Freeman) - September 18, 2019 - 12:00am
Cebu City is expected to have a better garbage collection system following the signing of an agreement between the City Hall and Jomara Konstruct Corporation, a private firm that has been helping the city dispose of its trash.
Under the agreement, worth at least P25.2 million, Jomara will use 30 additional trucks to collect garbage round-the-clock. Jomara is expected to get the award from the city's Bids and Awards Committee within the week.
"There will be hauling and collection. The city will be cleaned fast, finally, as more trucks will be used in collecting," Engr. Joel Biton, head of the Department of Public Services, was quoted by the FREEMAN as saying. "The service provider will be aggressive in collecting garbage because they were being paid by tonnage. The DPS and the barangays will also continue their work."
With this development, we really do hope that the city's garbage disposal will improve. It has been the promise of Mayor Edgardo Labella, upon his assumption of office, to prioritize trash collection together with the flooding problem.
For months, uncollected garbage has been the subject of complaints from residents around the city. In fact, this has been one of the hottest issues in the mayoralty race in the May 13 midterm elections.
Let's see whether or not the city's garbage collection will improve in the coming days. But the fact that the agreement with a trash hauling firm is about to take effect, the city is confident that the garbage problem will soon be a thing of the past.
However, unless we see those garbage trucks busily crisscrossing the city gathering trash from barangays, the problem will remain a major issue. It will continue to pester the city until those trucks will arrive to regularly start collecting our garbage.