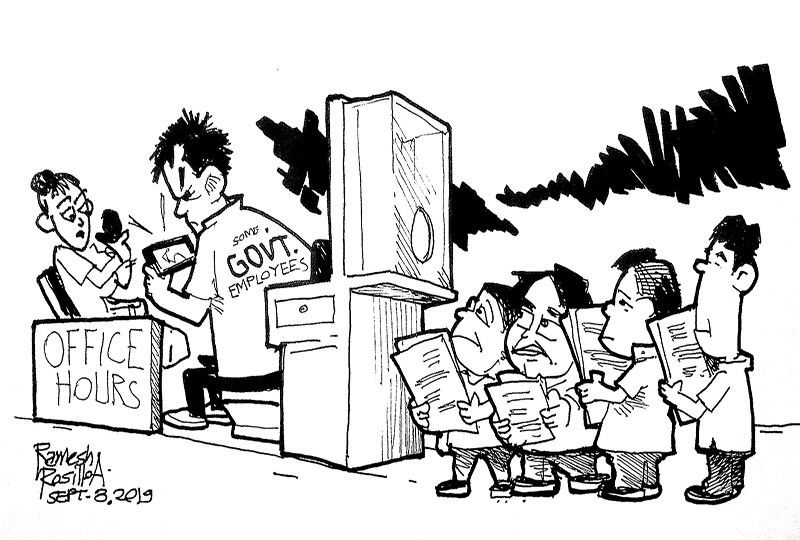 EDITORIAL - Extracurricular activities
(The Freeman) - September 8, 2019 - 12:00am
Appropriate sanctions await several employees of the Cebu City government who were found by the Civil Service Commission playing mobile games and doing makeup sessions during office hours in City Hall last week
City Attorney Rey Gealon said if confirmed to be City Hall employees, these people will be made to explain their actions. "Considering that we are yet on transition stage, most if not all the people in and around the premises of the City Hall building, especially those along corridors, were either applying for government positions or awaiting employment or appointments for courtesy calls," he said.
Last Tuesday, CSC personnel led by Commissioner Aileen Lourdes Lizada conducted a surprise visit to the Cebu City Hall and other local government units around the metro and found out that many government employees were playing mobile games and doing makeup sessions during office hours.
"To the public, sa mga pumupunta sa government, it is high time that you assert kasi may nakita kami na may nag-de-demo pa hindi ko alam kung lotion. Tapos doon sa likod, makikita mo ang employees ng gobyerno na nagpasample ng makeup but the others are patiently waiting outside, holding their folders and waiting to be served," Lizada said in an interview over TV Patrol Central Visayas.
Tinkering with cellular phones and other gadgets, hawking items to fellow workers and other extracurricular activities during office hours are no longer unusual for many employees in any government agency.
This practice has been going on for decades and the reason this has never been stopped is the fact that authorities lack some muscles to flex in the campaign to curb such illegal activities in government workplaces.
If those caught were really City Hall employees, then appropriate sanctions should immediately be meted against them to serve as a reminder to other government workers that punishment awaits those who mess with the sacred hours that are purely dedicated to public service.