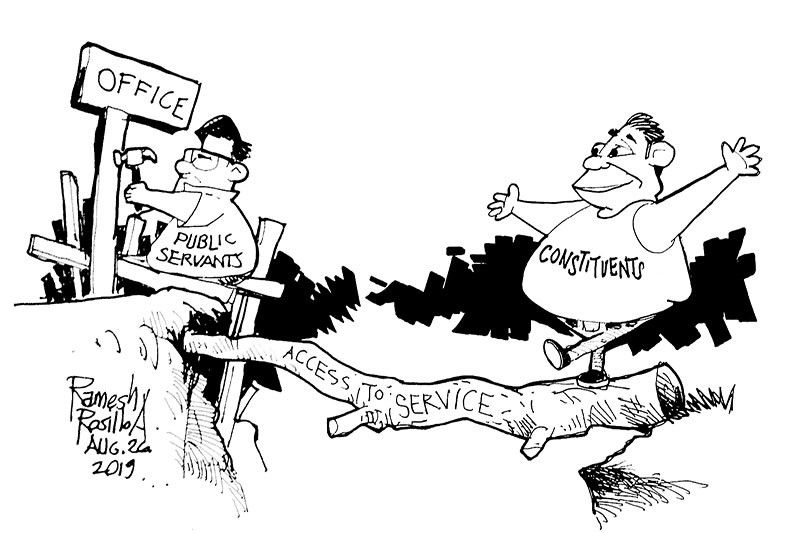 EDITORIAL - What counts is quality of service
(The Freeman) - August 26, 2019 - 12:00am
Saying he just wants a simple office, Cebu City Mayor Edgardo Labella does not want to use government funds for the new Office of the Mayor which will be located at the ground floor of City Hall.
For the establishment of his office, Labella's sisters reportedly donated nearly P2 million, according to The FREEMAN's page one report yesterday. The mayor is presently holding office on the eighth floor of the Executive Building.
"It's going to be a modest, simple office. It's enough for an office of a public servant," the neophyte mayor and former Ombudsman-Visayas official was quoted by this paper as saying. "I just want my feet to be on the ground."
The mayor may have shunned the idea of holding an elegant office. But as the local chief executive, he also need quarters that commands respect and influence, being the seat of power of the Queen City of the South.
Of course, whether or not Labella will have a modest office does not really matter. What really counts is that a public official is always accessible to his constituents and transacting visitors seeking assistance.
And it is just good Labella is choosing the ground floor of City Hall to locate his office. For that only means he wants to be closest to the people who catapulted him to the city's highest government position.
In public service, what is more important is the quality of service that any government office renders to the community. And accessibility is always an inseparable part of such service if we want to justify taxpayers' money.
A good public servant would never really mind occupying even the most plain government office as long as he is readily available when his constituents need his services. For him, it's the need to render the highest quality of service that really counts.