EDITORIAL - Why vote buying is hard to prove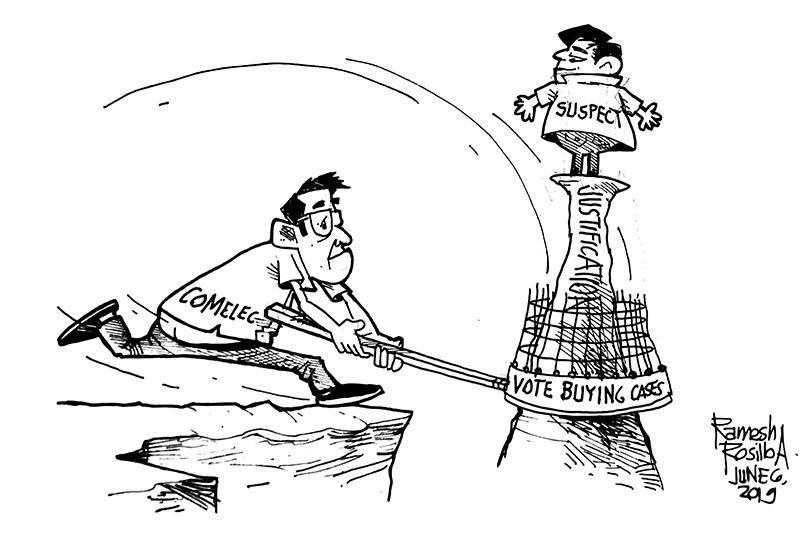 For authorities, vote buying during elections is really hard to prove in the absence of clear evidence pointing to a candidate or any of his supporters giving money to voters in exchange for their votes.
The Commission on Elections, Philippine National Police, and other concerned agencies were one in pronouncing that buying of votes is something that is hard to justify because it will always be a challenge to prove who gave and who accepted money during elections.
In a critique session at the regional police headquarters the other day, one of the issues discussed were reports of vote buying during the recent midterm polls and arrests made by policemen of some individuals allegedly involved in the illegal activity.
However, while several arrests were made and thousands in cash confiscated for alleged vote buying in Central Visayas, Police Brigadier General Debold Sinas, regional director of the Police Regional Office-7, admitted this illegal activity is hard to prove.
According to the police, at least 120 cases of vote buying were reported in the country. Two of those cases were recorded in Cebu City and three in Cebu Province. Bohol has two while both Negros Oriental and Siquijor have one. There were nine arrests recorded in the region.
However, the reason why no vote-buying accusation prospered into a real case in court is that it's really hard to prove at the prosecutorial level that such a crime was really committed, especially because of the fact that a complainant has to show proof that money actually changed hands.
A case in point was the arrest of several youngsters, some of whom are Sangguniang Kabataan officials, in Cebu City for alleged buying of votes. Charges against them were junked by the prosecutor's office due to lack of evidence.
Yes, not all vote-buying activities involve a certain amount. As National Intelligence Council Agency-7 chief Augusto Marquez Jr. said, mere possession of money is not illegal. There should be law that easily determines vote buying.