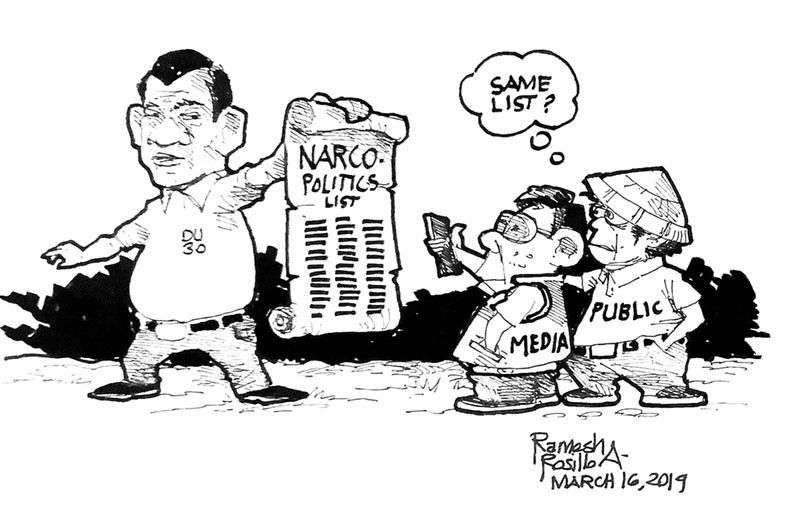 EDITORIAL - New drug list
(The Freeman) - March 16, 2019 - 12:00am
Cebuanos expected new names from the province in the latest list of politicians allegedly involved in the illegal drug trade. But when President Rodrigo Duterte released the narco list the other night, what they heard were the same names.
Reading the names of "narco politicians," Duterte again specially mentioned Daanbantayan Mayor Vicente Loot, one of the mayors consistently in the list. The president again castigated Loot, a former police general, for his alleged involvement in drugs.
Another familiar name in the list was San Fernando town Vice Mayor Fralz Sabalones. Many expected Duterte to mention Sabalones since the latter was the brother of alleged Cebuano drug lord Franz Sabalones. In fact, Fralz has gone into hiding following the series of killings of some of the town's officials.
It would have been interesting if there were new names from Cebu that appeared in the list. Perhaps Loot and Sabalones are just the ones whose alleged involvement is being confirmed. Duterte said there are still many local officials involved in drugs but their names have yet to be validated.
In the meantime, the happiest person during Duterte's announcement was former Cebu City mayor Michael Rama, who is running for vice mayor. Why? He was no longer included in the list of narco politicians.
The president named Rama as being involved in drugs not only once but twice. Vehemently denying the accusation, Rama has been trying to get the opportunity to meet with the president but to no avail. His luckiest day came when Duterte raised his hand as a sign of support for his candidacy during a PDP-Laban rally last month.
For Rama, his non-inclusion in the latest narco list is a testament to his exoneration from the drug accusation. For the former mayor, this new development only boosts his chances in the midterm elections in May.
While it is good news that there are no new names from Cebu in the narco list, we hope our local officials will not succumb to the lure of drug money now that the election season is heating up.