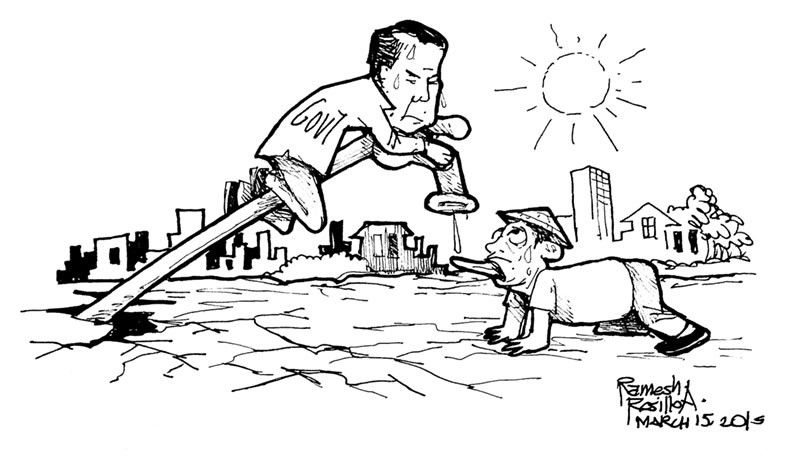 EDITORIAL - Water shortage
(The Freeman) - March 15, 2019 - 12:00am
As the dry weather now takes its turn, water shortage is starting to take its toll in many areas across the country. This problem is expected to last for months since we are still in the onset of what we call summer.
With the Philippine Atmospheric, Geophysical and Astronomical Services Administration announcing the arrival of a mild El Niño phenomenon, we can only brace for the worst as we face a destructive dry season.
In the capital, there's an ongoing water crisis gripping Metro Manila, as its source of water can no longer accommodate the rising demand. Now, various sectors are clamoring for the government to look for alternative sources of water.
Cebu is facing the same problem as well. Since last month, many barangays in Cebu City under the Metropolitan Cebu Water District franchise --especially those in elevated areas-- are experiencing low supply or lack of water during the day.
The water level in the Buhisan Dam, one of the MCWD's major sources of water, is now critical. This prompted the water distributor to start rationing the water supply in some areas in Cebu City as it anticipates the problem to worsen in the coming months.
It's really unfortunate that the water shortage is a common yearly problem sweeping across Metro Cebu. And it seems this will continue hounding us for more years, considering the absence of a solution from the water distributors and the government.
With the rising demand due to the increasing population, the water supply in the metro remains sadly the same. In spite of this, there have been no major investments from water distributors and the government itself to increase the supply.
There's really an urgent need for all stakeholders to look for other alternative sources of water. Metro Cebu is the country's capital outside Manila and this water crisis will no doubt take a heavy toll on the local economy.