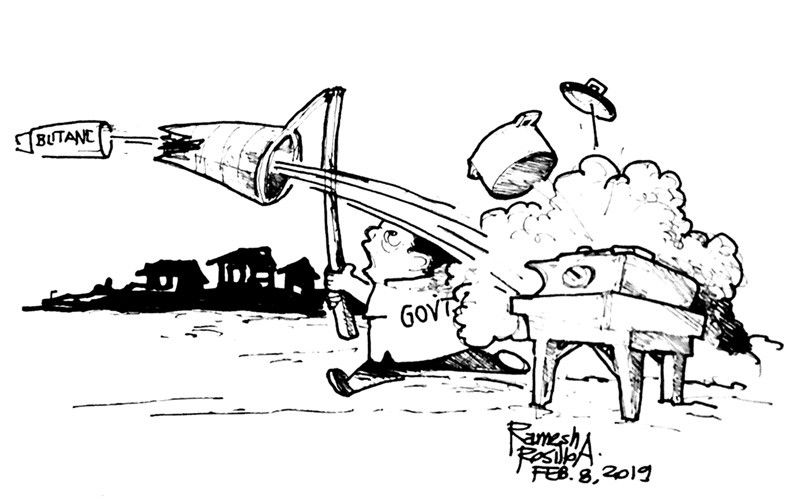 EDITORIAL - No letup in campaign vs. butane refilling business
(The Freeman) - February 8, 2019 - 12:00am
It seems there has been no letup in the campaign against the business of illegal butane refilling in Cebu. Last Tuesday, elements of Criminal Investigation and Detection Group-7, Regional Mobile Force Battalion-7, Department of Energy-7 and Consolacion Police Station arrested three persons and seized at least P1.7 million worth of butane refilling equipment in Barangay Tayud, Consolacion.
The operation was just the latest in a series of raids by authorities in Cebu against the illegal practice of butane refilling. In September last year, a butane refilling station in Lapu-Lapu City was raided and authorities arrested the operator and his 16 personnel.
A press release from the House of Representatives said Presidential Decree 1865 "prohibits illegal trading in petroleum and/or petroleum products; adulteration of finished petroleum products, or possession of adulterated finished products for the purpose of sale, distribution, transportation, exchange or barter and underdelivery or underfilling beyond authorized limits in the sale of petroleum products or possession of underfilled liquefied petroleum gas cylinder for the purpose of sale, distribution, transportation, exchange or barter, among others."
However, despite the spate of arrests, we can only expect many to continue engaging in this kind of business because of its profitability. In Cebu, for example, butane refilling is a huge business whose market comprises the middle and the lower classes of the population.
As we see it, an intensified campaign against those who engage in butane refilling business is not really enough. The business will continue to remain strong as long as there is a huge market that continues to patronize it.
That is why the crusade should not just be limited to going aggressively after those who refill, distribute, and sell refilled butane canisters. Those buyers are also to blame why this illegal business continues to flourish in the first place.
Therefore, authorities need to start going after those refilled butane canister buyers if we want to put an end to this illegal business once and for all.