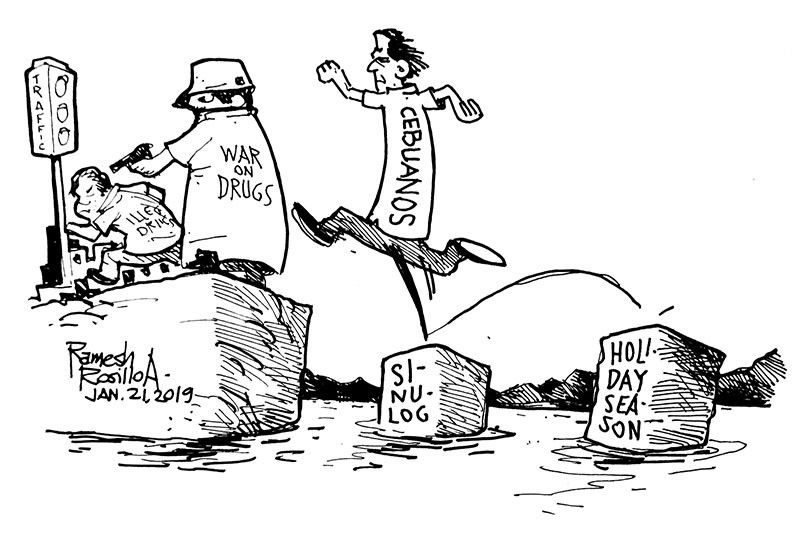 EDITORIAL - We're back to our daily lives
(The Freeman) - January 21, 2019 - 12:00am
After the festive mood sweeping across Cebu City the past days, Cebuanos are now starting to return to their daily lives. The events of the Feast of the Señor Sto. Niño, especially the Sinulog festival, have now become part of history.
As in the previous years, the past weeks saw the traffic situation around the metro going from bad to worse. Such was really expected considering the huge influx of tourists witnessing the Sinulog festivities and the devotees attending the series of fiesta activities.
Well, fiesta or not, traffic has always been bad in the city and neighboring areas. In fact, Cebuanos have started to stop complaining and began to cope with this worsening problem. For them, constant complaining won't solve the problem knowing the lack of modern mass transport system.
However, Cebuanos still hope that authorities will start to craft ideas on how to improve the road traffic. We cannot forever be content with the present situation. There must be an eventual solution to the problem, which has already been taking its toll on Cebu's economy.
And, aside from the serious traffic problem, the deteriorating peace and order situation is another thing that Cebuanos have started to learn to cope with, especially in the continuing saga of the government's intensified war against the illegal drug trade.
Even high-profile personalities are not spared from crimes which, sadly, are happening even with the tight security being implemented by authorities amid the fiesta celebrations and the Commission on Elections gun ban.
This happened last Thursday, when former Cebu City assistant prosecutor Mary Ann Castro was ambushed by unidentified assailants during rush hour while driving along one of the city's busiest streets.
As the dust of the fiesta celebrations slowly settles, our attention now begins to depart from our religious preoccupation to align with reality. The pestering traffic problem, the deteriorating peace and order situation, and the need to make ends meet — all these will continue to snatch up a huge portion of our daily lives.