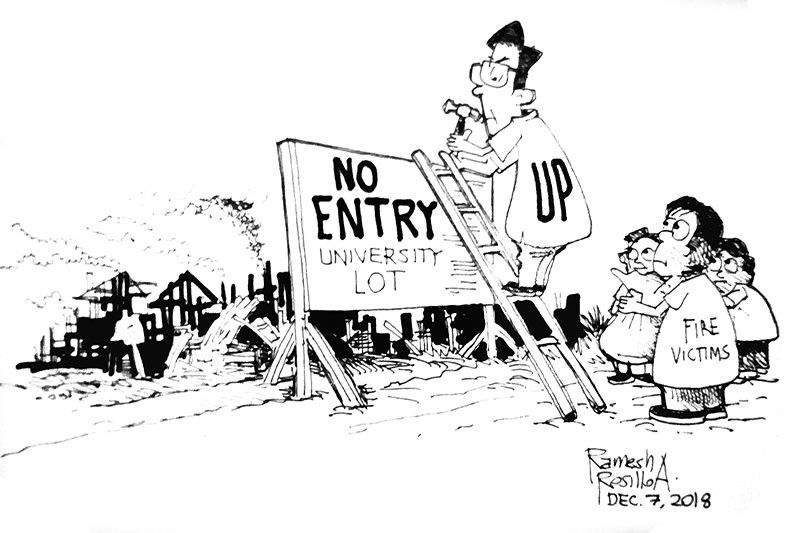 EDITORIAL - What we learn from the Kamputhaw fire
(The Freeman) - December 7, 2018 - 12:00am
More than 100 houses mostly made of light materials were reduced to ashes after a morning fire swept through a thickly-populated area in Barangay Kamputhaw in Cebu City last Wednesday. Initial estimate put the damage at P1 million.
The incident was the latest to hit the city since last week. On November 29, a huge fire reportedly triggered by an exploding power transformer gutted the Unit 3 of Carbon Market and gobbled up over P1 million worth of property.
Since Kamputhaw was also hit by a huge fire last August, the barangay reportedly has a serious problem in the effort to assist the victims of last Wednesday's conflagration because its emergency fund was already used up.
Added to the problem is the fact that there has been no assurance whether the fire victims can go back to the area. The lot is owned by the University of the Philippines and it is not yet known if the school will take steps to take control over the area following the fire.
There have been cases in which fire victims have lost their right to return to the area they occupied for decades as the real owners would then move in following the incident to reclaim their property.
This is a common problem that the barangay, the city government and the informal occupants themselves failed to see. That is why many fire victims end up being embroiled in case filed by lot owners who want the court to prevent them from returning to the area.
In the case of the latest Kamputhaw fire victims, the UP management has yet to comment after the incident. It might move to recover its property, an option it resorted to when a fire hit its lot in Lahug years ago, something those Kamputhaw fire victim hope will not happen to them.
There is certainly an important lesson we should all learn from the Kamputhaw fire incident. That all stakeholders – the city government, barangay, and the residents themselves – need to settle the issue on lot ownership to prevent any complication that may arise in the future.