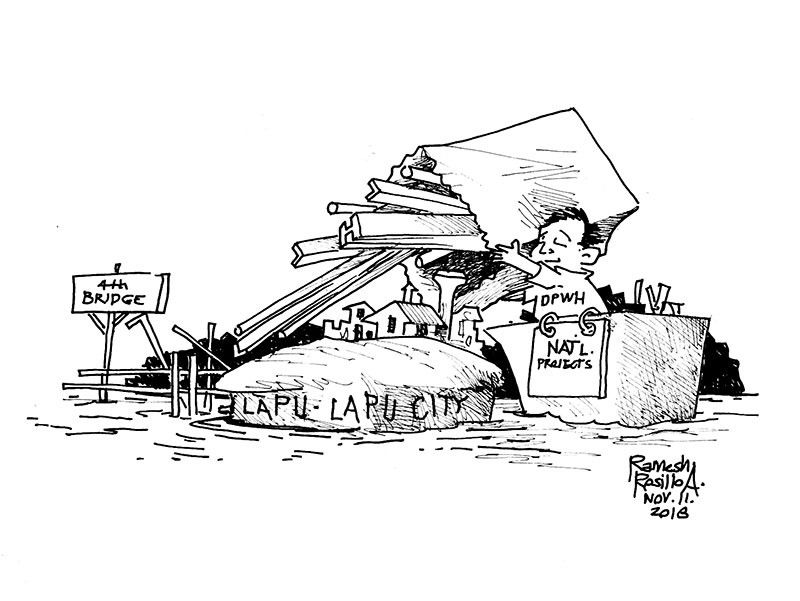 EDITORIAL - Infra development
(The Freeman) - November 11, 2018 - 12:00am
The fourth bridge that will link mainland Cebu and Mactan Island will be expected to start next year as its preparatory survey kicks off in January, according to an official of the Department of Public Works and Highways.
DPWH Undersecretary Emil Sadain said they hope the project will be operational before the term of President Rodrigo Duterte expires.
"We have coordination meeting with JICA (Japan International Cooperation Agency) representative and DPWH to discuss the feasibility study scheduled on November 21, 2018," he said.
Under the JICA proposal, the new bridge – which is estimated to cost P3 billion – will be from Barangay Cansaga in Consolacion town to an area near the international airport in Barangay Pusok in Lapu-Lapu City.
It will be finished after the third bridge, which is set for completion by 2021. The Cebu-Cordova Link Expressway is being constructed from the area near the South Road Properties in Cebu City to Cordova town.
The two bridges will be vital to Cebu's economy, which is expected to further expand given the hike in the volume of visitors and trade as the province, especially Metro Cebu, is starting to cement its status as a preferred tourist and investor destination.
Yes, it's high time for Cebu to accelerate its infrastructure development if it wants to catch up with Metro Manila, where the bulk of government projects in the country are currently being implemented.
Because of the lack of vision from our past leaders, we now end up suffering from the stress of going through the worsening traffic condition owing to the narrow roads, and the lack of mitigating measures from our present officials.
With the two bridges now being fast-tracked, it is our hope that Cebu will continue prioritizing infrastructure development as it is starting to grab a bigger portion of the pie under the Duterte administration's "Build, build, build" program.