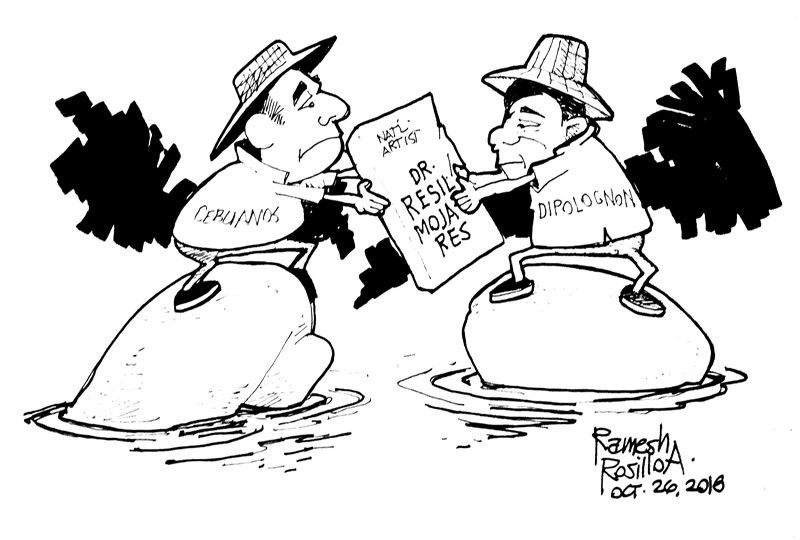 EDITORIAL - A national icon
(The Freeman) - October 26, 2018 - 12:00am
Cebuanos are really proud of the recognition conferred on Dr. Resil Mojares, a University of San Carlos professor emeritus who has been named National Artist for Literature by the government for his exceptional literary compositions.
The 75-year-old Mojares copped the country's most prestigious award with six other new national artists: Ryan Cayabyab for music, Francisco Mañosa for Architecture, Ramon Muzones for Literature, Larry Alcala for Visual Arts, Amelia Lapeña Bonifacio for theater, and Kidlat Tahimik for Film.
The National Commission for Culture and the Arts cited Mojares for his extraordinary literary outputs. His achievements include the establishment of the country's first study center, the Cebuano Studies Center of the University of San Carlos.
However, there are those who would say that Cebuanos have overreacted to Mojares' recognition, especially since they address him as a Cebuano writer, and that they forgot the reality that Mojares was born and raised in Dipolog City in Zamboanga del Norte.
They explained that since Mojares was born and raised in that city in Mindanao, the people of Dipolog should also have the right to call him as one of their own. Therefore, for them, Mojares should also be called a Dipolognon writer.
Well, we should not make an issue out of Mojares' origin. Calling him a Cebuano writer or a Visayan writer or a Dipolognon writer or a Mindanaoan writer would just be fine for as long we are comfortable with it.
Neither Cebuanos nor Dipolognons can claim monopoly over Mojares. While Cebuanos can embrace Mojares as a Cebuano since it is in Cebu where he created a name in the literary world, Dipolognons can always rejoice out of the fact that he was born in their city.
The issue about Mojares and his origin should not overshadow our celebration of his elevation to the pantheon of national artists. He is not just a Cebuano or a Dipolognon writer. He is a national icon.