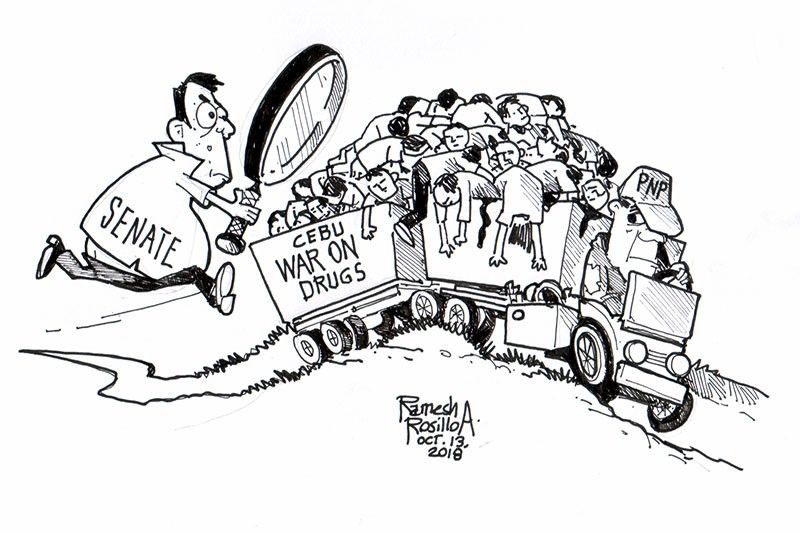 (The Freeman) - October 13, 2018 - 12:00am
The spate of killings across Cebu did not escape the attention of the Senate with the minority bloc pushing for an inquiry into what they described as part of the Duterte administration's deadly war on drugs.
Minority Leader Franklin Drilon and senators Francis Pangilinan, Paolo Benigno Aquino IV, Risa Hontiveros, Antonio Trillanes IV, and Leila de Lima filed Senate Resolution 915 calling for an investigation into the series of alarming deadly incidents in Cebu.
"The allegation that police officers themselves are behind some of the killings is highly disturbing," the senators said in their resolution, "the recurring narrative of 'nanlaban' or suspects having resisted arrest, has been serving as a wrongful justification for fatalities during the conduct of police operations to curtail proliferation of illegal drugs."
Cebu has been one of the hotspots in the government's fatal campaign against the illegal trade. Since 2016, scores have already been killed – some of them notorious drug personalities – and hundreds more were arrested.
But it was the other week when the province recorded its highest number of casualties in a single day. Massive police operations and a shooting incident in an upland Cebu City barangay claimed the lives of at least 15 persons. All victims allegedly involved in illegal drugs.
Since those who pushed for the investigation were opposition senators, we can only expect it to be a one-sided affair. We all know that they have been very vocal against the government's drug war they claimed as tainted with extrajudicial killings by policemen.
Should the Senate inquiry push through, its purpose should not have to confirm that those killings were examples of extrajudicial killings. The probe should travel a straight line toward an impartial finish. That is how a probe in aid of legislation should be conducted.
The Senate investigation must live up to the expectation of Cebuanos who are hoping for the truth to come out behind the series of killings. It should not be made a venue for political grandstanding.