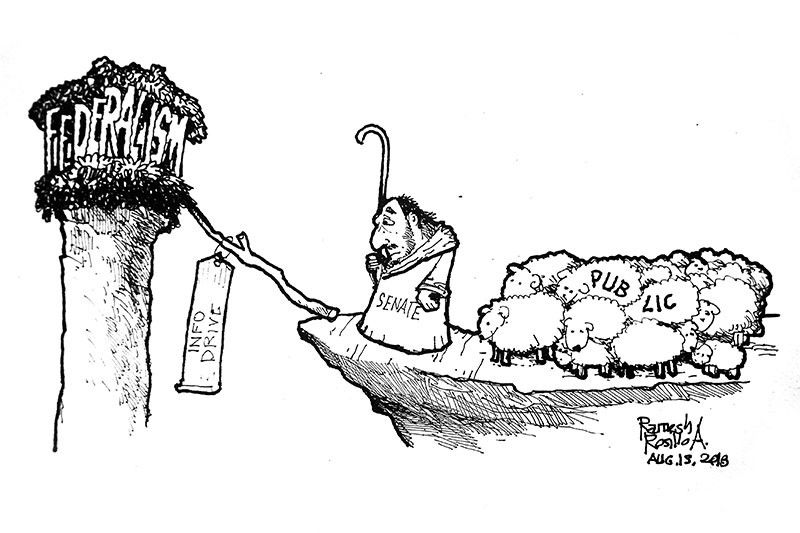 (The Freeman) - August 13, 2018 - 12:00am
Senator Grace Poe wants the Senate to look into how the government conducts information drives on the move for a shift to federalism in the wake of the video controversy involving Presidential Communications Assistant Secretary Mocha Uson.
Poe filed Senate Resolution 821 urging an inquiry into the information campaign of the Consultative Committee and the Presidential Communications Operations Office on federalism.
Uson, the most controversial official in the Duterte administration, has been widely criticized after Drew Olivar, her co-host in an online show, recited "i-pepe" and "i-dede" as he pointed to his chest and crotch in a bid to raise awareness on federalism.
"Whereas, the video showcased toiled humor on a rather serious issue does not help explain federalism to the people, especially at a time when only 37 percent of Filipinos support the shift to a federal system of government," Poe said in her resolution.
There is really an immediate need for the Duterte administration to start barnstorming the countryside in a massive information dissemination campaign in its effort for the country to shift to the federal form of government.
Senator Poe said 62 percent of Filipinos do not want a shift to federalism, citing a survey that showed only one out of four Filipinos is aware of it. Given that figure, it seems the government is in for a tough job of convincing Filipinos to support federalism.
Embracing federalism is not as easy and as fast as a woman changing her clothes. For it to properly function as designed, it needs to be understood by all Filipinos. The problem, however, is that while the government is busy trumpeting federalism's advantages and the benefits it brings to the country, majority of Filipinos remain clueless about it.
The coming days will be crucial for the government when the federalism campaign caravan hits the road. But whether the masses will be convinced to support it remains to be seen.