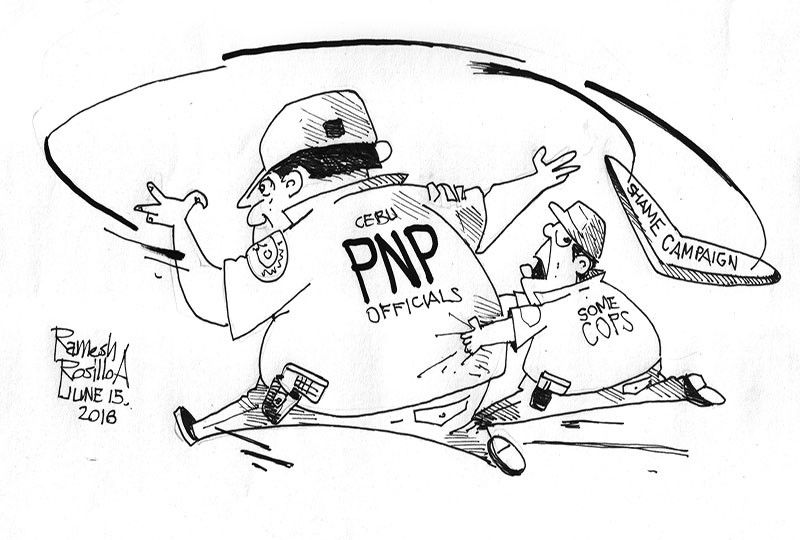 EDITORIAL - Hoodlums in uniform
(The Freeman) - June 15, 2018 - 12:00am
Even before the Commission on Human Rights can open an investigation into the death of a Philippine National Police official killed in what authorities claim as a buy-bust operation in Mandaue City, the leadership of Cebu City Police Office is considering launching a shame campaign against policemen involved in illegal activities.
Senior Superintendent Joel Doria, city police director, said he is in favor of presenting arrested rogue policemen before the media. He seemed convinced by the fact that this kind of shame campaign will prevent other policemen from venturing into illegal activities.
It's unlikely that the national police leadership will throw its support behind the idea, which will surely create legal repercussions. But considering the absence of any directive, such campaign will never see the light of day.
However, it is not really about legality. We all know that the rules on presumption of innocence until proven guilty must be upheld, regardless of whether the suspect is a law enforcer or an ordinary civilian.
The real issue here is whether any shame campaign is really effective in the crusade against police scalawags. That is because we have already seen countless cases in which arrested policemen were displayed in public yet they were never able to send a strong signal that the days of those hoodlums in uniforms are numbered.
Many believe that the problem on rogue policemen will continue to exist unless the PNP officials will come to their senses and start to realize that it is something that must be urgently fixed at the grassroots level.
Being a good policeman is not only molded by the passion to serve and protect the public. A good policeman has an unquestioned self-discipline that would enable him to resist even the highest form of temptation that circles around the privilege of having a gun.
It is therefore important that solving the problem on rogue policemen should start from the recruitment process. The PNP leadership should see to it that only those qualified to undergo training have the competence to truly adhere to the rules governing the law enforcement profession.