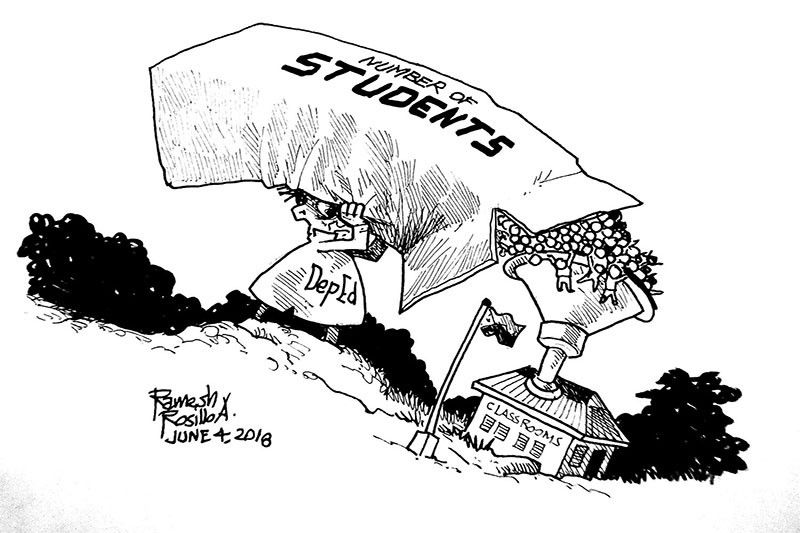 EDITORIAL – The usual problems
(The Freeman) - June 4, 2018 - 12:00am
The new school year is starting today as classes are now officially open for millions of students across the country. The police earlier said they were ready for the opening of classes as security was already put in place.
But as classes kick off and will run for the next 10 months, the usual problems will once again hit public schools, especially those in the countryside. And some of these problems have existed since the creation of the education department.
One crucial problem is the shortage of classrooms. For decades, many classes had to be held inside sports complexes and gymnasiums and under mango trees as many schools ran out of classrooms due to the rising student population.
We all know that the government lacks the resources to arrest the classroom problem. This despite the fact that the Department of Education is getting one of the biggest appropriations in the annual national budget.
Even with the help of several companies and private organizations, classroom shortages continue to shake many public schools all over the country. This has become a serious problem haunting the government and education authorities.
Another major problem rocking public schools for decades is the lack of teachers. It's undeniable that the teaching profession no longer has the attraction to draw young professionals, majority of whom are now casting their hat into the lucrative Business Process Outsourcing industry.
The reason why the teaching profession no longer draws young professionals has something to do with its low financial reward. Although the government has implemented salary adjustments for public school teachers, wages for those in private schools remain uncompetitive.
As the new school season officially starts today, the usual problems like the shortage of teachers, classrooms, and other facilities will once again steal the show. And they are bound to recur next year because of the government's inability to solve them.