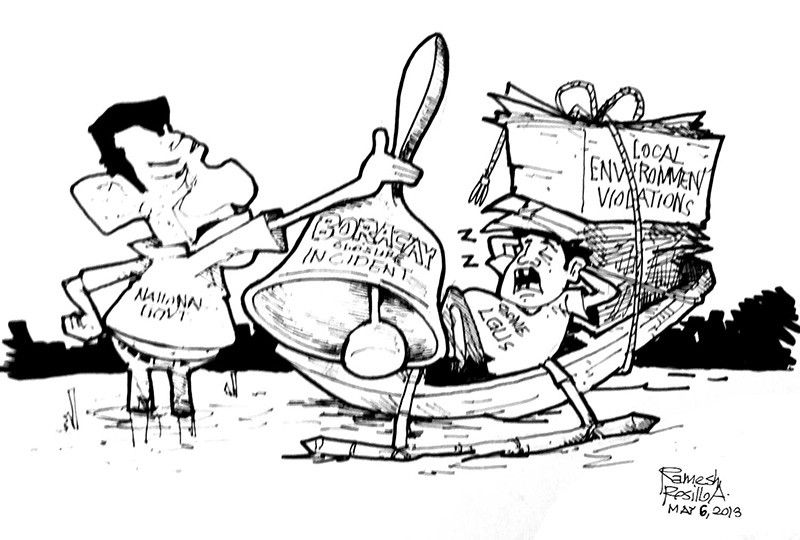 EDITORIAL - Sleeping on the job
(The Freeman) - May 6, 2018 - 12:00am
As the government's intensified crackdown on resorts violating environmental regulations extends to other areas, at least 67 structures dotting the shorelines of Oslob town in southern Cebu have been found encroaching on the sea.
These resorts are at risk of being closed after being found violating the law regarding the 20-meter easement from the shoreline following inspection by officials of Department of Environment and Natural Resources.
Although environment officials assure that any closure of these violating shoreline structures should pass through the legal process, they are also seeing to it that the town's bustling tourism industry will not be seriously affected.
Oslob shot to national fame following the discovery of whale sharks routinely whirling around few meters from its shoreline. According to the latest data from the Department of Tourism, the town is now Cebu's second top tourist destination with Mactan Island topping the ranks.
And while the public supports the effort to go after resorts violating environmental laws, some may wonder why it is only now that authorities are heightening the campaign. Was it only because of President Rodrigo Duterte's order for the DENR to thoroughly monitor the country's resorts that caused Boracay's closure?
Long before Oslob becomes famous for whale shark diving, the town was already known for its fine beaches and other tourist attractions that have been drawing thousands of local and international visitors.
But why are authorities finding the illegal structures only now when in fact these resorts have already been standing along the shoreline for years undisturbed? Does this mean they are just tolerating such offense because no one dares to file a complaint?
Such inaction is clearly tantamount to sleeping on the job. Good thing the president of the country made a noise about Boracay becoming a "cesspool" that suddenly woke concerned government agencies up.