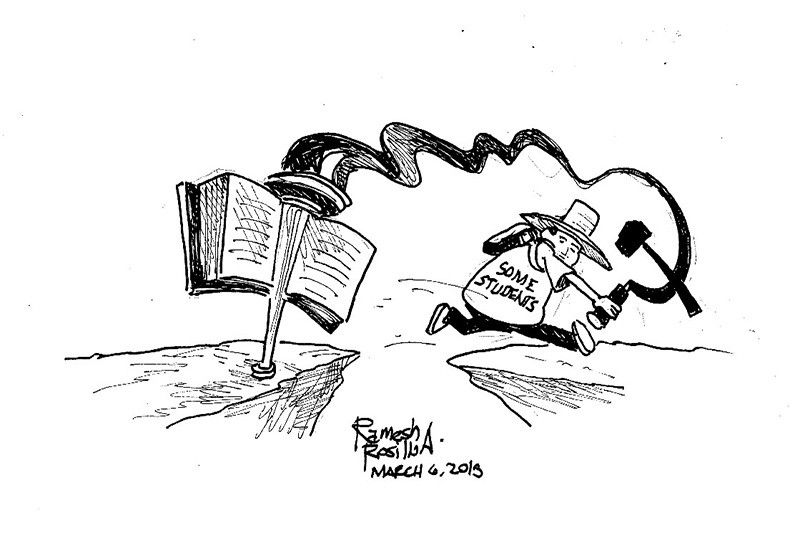 EDITORIAL - A foolish decision
(The Freeman) - March 6, 2018 - 12:00am
A female graduate from the University of the Philippines Cebu was among those suspected New People's Army rebels arrested during an encounter with the Philippine Army and the Philippine National Police over the weekend in Negros Oriental.
Myles Albasin was with five others, including two teenagers, when soldiers and police swooped down on them in Barangay Layang in the town of Mabinay. Authorities said their arrest came following a report from residents of their presence.
A native of Cagayan de Oro City and graduate of Mass Communications from UP Cebu, Albasin is a member of Nagkahiusang Kusog sa Estudiyante. Following her graduation, she became secretary general of Anakbayan-Cebu.
Albasin said they were just in the area to discuss many issues with the residents, especially on the subject about why they are poor, admitting that the firearms recovered from them belonged to an organization.
Their presence in the hinterlands of a province known as a bailiwick of the NPA seems to confirm allegations by the authorities that they are doing rebel activities in the area. Granting they were in the mountain to discuss poverty issues with the farmers as claimed by Albasin, the fact that there were firearms recovered from them only revealed their real activities.
If they really have the heart for the poor and wanted to alleviate their plight, Albasin and her group do not have to invade the mountains to be with the poor. There are thousands of poor people scattered across Metro Cebu for her group to help.
Besides, those farmers in the mountains of Negros that Albasin and her group wanted to help are more fortunate than those street dwellers in Cebu City because those farmers were lucky to have land to till.
Albasin and her group are still young and there's a bright future waiting for them. If they really wanted to be productive members of society, engaging in an armed struggle against the government is certainly a foolish decision.