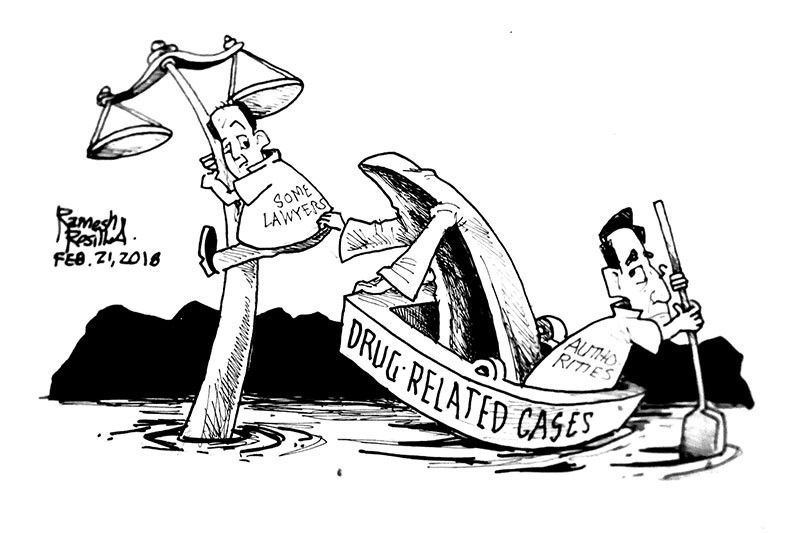 EDITORIAL - No one spared from the evil of drugs
(The Freeman) - February 21, 2018 - 12:00am
While it is too early to officially put a finger on the real motive of the killer/killers who ambushed Cebu lawyer Jonah John Ungab shortly after appearing in court with his client, the self-confessed drug lord Kerwin Espinosa, it would be extremely difficult to believe that his death had nothing to do with the case. For while it is perfectly possible for the motive to be entirely different, it would be a stretch at this time, given the circumstances, to believe otherwise.
And that brings us to the hard-to-miss point -that not only are illegal drugs extremely dangerous to those directly involved in their use and trade, it is extremely prejudicial as well to the health and well-being of even those who are only circumstantially connected to them. One can find no more glaring example of that than the very case of lawyer Ungab.
Like all lawyers, Ungab was sworn to provide legal services to anyone who needs them, without regard for the circumstances by which such services are needed. The right to counsel is a basic right, which is why the government, any government, has a public attorney or defender to provide such a service to those who cannot afford it.
In the case of Ungab, he must have been presumably paid well, given the extraordinary circumstances of his client. But it is unfair to Ungab as a person, and to the legal profession as a whole, to say that extraordinary circumstances such as that which Kerwin Espinosa enjoys, are what draws lawyers to certain cases, even patently dangerous ones.
It is, as had been said, the sworn responsibility of lawyers to provide legal services to whoever needs them. It is just unfortunate that, for such a noble profession, its practitioners cannot ever enjoy the luxury of making choices. When a case beckons for recognizance, a lawyer must respond, like a good and ever-loyal soldier being to battle summoned.
And so there went Attorney Ungab, who never had a chance, the call of his profession eventually sealing his fate. But maybe all is not lost. Maybe his sad and sorry case can serve to provoke meaningful changes in the way security is provided the legal profession, especially when in the conduct of extremely dangerous cases such as those involving drugs. The Ungab ambush can be the sufficient provocation for government to look into this area of security where it had never looked before.