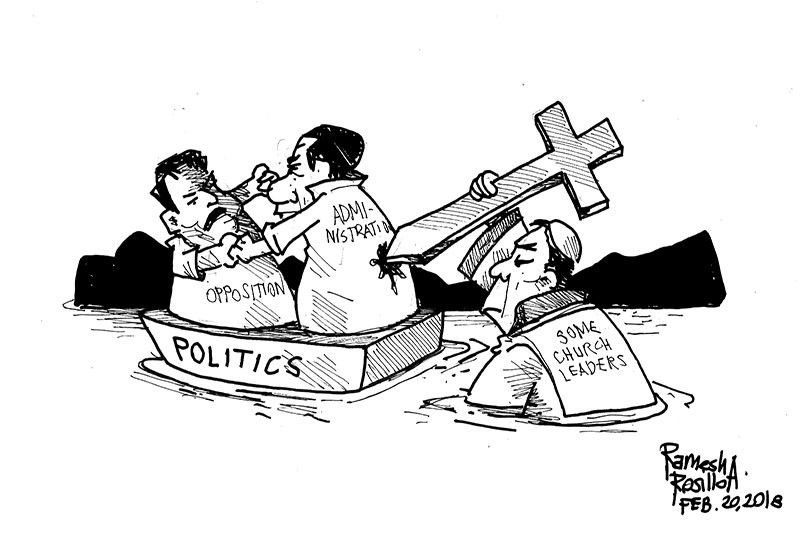 EDITORIAL - Filipinos not tired of loving their country
(The Freeman) - February 20, 2018 - 12:00am
It is truly very sad that a person who holds such a lofty position in the Roman Catholic Church would completely lose sight of all perspective and see those who do not share his political views as outsiders, inferior, lack nationalism, and otherwise not worthy of any entitlement to their own freedom to choose what to think, say and do.
Such is the sad and sorry tale of Lingayen-Dagupan Archbishop Socrates Villegas who has never been able to shed his closeness to the Aquino family in order that he may maintain the strict balance, fairness, and objectivity required of an apolitical Roman Catholic official. Villegas has remained unapologetic despite getting blasted for using his Church position in openly campaigning for the Aquino-anointed candidate for president in 2016.
Unable to obtain political victory despite his religious clout, the still smarting Villegas resolved not only to remain a critic of President Duterte and all that he says and does but, worse, embrace everything to the contrary. It does not strike Villegas as odd or improper to write to Senator Leila de Lima, who is in jail on drug charges, and unburden himself to her about how Filipinos have supposedly grown tired of loving their country.
Contrary to what Villegas thinks, at no time in history are there more Filipinos loving their country than now. They work, they go to school. They volunteer. They are all into the task of nation building. Majority of Filipinos agree drugs destroy the country. They only seem otherwise to Villegas because more and more of them are willing to give Duterte the benefit of the doubt by continuing to trust him and be satisfied with his performance.
And they are oblivious to what happened to de Lima, to the great consternation of Villegas. Just because there are no bleeding hearts for de Lima does not mean Filipinos will not bleed for the Philippines. They would and they will, only not in the manner that Villegas thinks they should. And that is sad because it shows just how out of touch the prelate is with the reality in his own country.
Filipinos have grown tired of all the politics and the hypocrisy. And if Villegas still does not get it -the reason Filipinos are putting up with the foul mouth of Duterte is because the truth sometimes needs to be expressed brutally. There is nothing to be gained in lies, no matter how carefully couched in niceties. If Villegas really wants to know if Filipinos still love their country, he should submit himself to a confidence poll versus Duterte.