EDITORIAL - Futile to keep talking with communists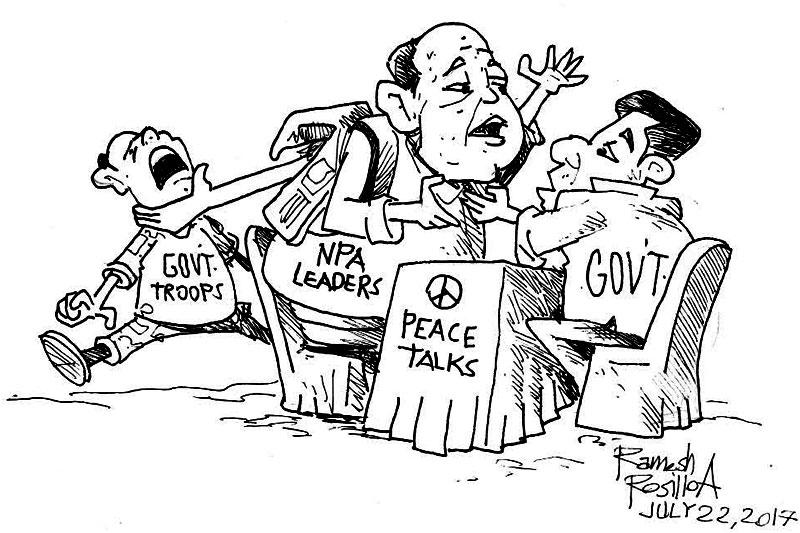 President Duterte has suspended, yet again, peace talks with the communists. This is not the first time talks have been suspended, all for the same reason -duplicity and bad faith on the part of the rebels. They just cannot sit tight while their leaders talk peace with government. They have to keep attacking government troops in the meantime.
The communists cannot have their cake and eat it too. If they want peace they have to act like they want it. If anyone has to carry a carrot in one hand and a big stick in the other, it is the government, not the other way around. The gall of them to think they are on equal footing with government. The government represents the entire Filipino nation. They do not.
It is not the government that disturbed the peace, it is the rebels. If the government has troops all over the land, it is because it is its duty to do so. The rebels are not empowered with the same authority. No statute, book, or handshake allows them anything remotely similar. The communists are violent disrupters of the peaceful, orderly and productive way of life Filipinos are guaranteed by the Constitution, and are therefore criminals.
If government is even talking peace with them, it is only out of its genuine desire to attain peace, not to give the communists what they want, which is to supplant that way of life. The motherhood statements they mouth about change and reform are precisely what they are -motherhood statements. In fact, motherhood statements are better in that they hurt nobody. What the communists are mouthing are harmful and dangerous lies.
Having suspended, yet again, the peace talks, it might do well for the government to wake up that it has simply been led by the communists on a wild goose chase. The peace talks were just a ploy to get their captured leaders out of prison on the strength of nothing more than good faith on the part of government and a chance to polish their tarnished image on the global stage that is swiftly diminishing for them.
The talks should not only be suspended, it should be scrapped altogether. This pretense at suing for peace must stop. Let us stop sugarcoating the fact that there is an actual war that exists between government and the communists. The only peace that is perhaps worth pursuing is with the Muslims. At least the problem with Muslims has a historical and cultural basis worth looking into. With the communists, it is nothing but a pure, unadulterated power-grab attempt.