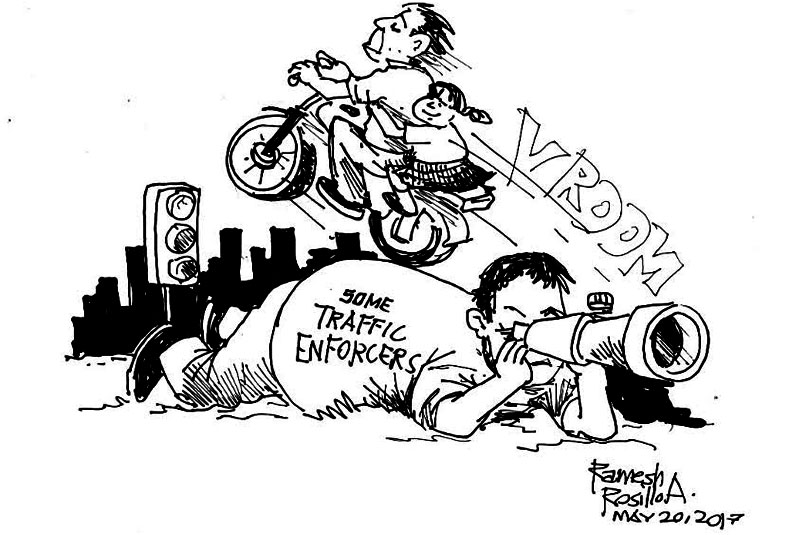 EDITORIAL - Tough times ahead for law enforcers
(The Freeman) - May 19, 2017 - 4:00pm
The law banning small children from riding motorcycles has taken effect. But if you think there will be a rash of apprehensions as a result, you are in for a big disappointment. Right now there is not much need for children to be riding motorcycles. Classes have not yet started. But wait when classes start in June. That is the time you will really see motorcycles blooming with children. That will be the time to test the effectiveness of the law.
Chances are, any apprehensions will be far less than expected. And the main culprit will be, as it has always been, the lack of enforcers to carry out what the law requires. Oh sure, there will be a rash of apprehensions in the first few days. And then it will taper off and wane. Eventually, the apprehensions will stop. And as always, the reason will be that enforcers have other laws to enforce. They cannot spend their whole time on one thing.
One can already imagine how this thing turns out. You put one enforcer at some street corner in the city. All of a sudden the cavalry attacks. That is how a horde of motorcyclists looks like when, while stopping at a red light, they all bunch up together at the head of several columns of motor vehicles, and then at the turn to green, they all speed forward in a seeming race. If only they had sabers, they would look like cavalry on the attack.
Now imagine even half of them having small children as passengers, all barreling down the street toward our lone and solitary enforcer. What is the enforcer to do? He obviously cannot flag down the entire cavalry. What happens is that it will only be one unlucky motorcyclist who gets caught while the rest scoot away, perchance to have another one of them caught by some other solitary enforcer further on down the road.
What this will all boil down to is a game of cat and mouse. And do not underestimate the cunning of the Filipino. A motorcycle is easy to turn around. If a motorcyclist notices an enforcer ahead, he can always turn around and look for another street. But then again, things are not without redemption. Maybe what the law should do is place a horde of enforcers near schools. Small children have to be delivered to the mouth of schools, after all. That is where the ambush must take place.
But that is if parents are going to take this law just sitting astride their motorcycles. Somehow, the feeling is that they are not. Some gutsy parents are expected to protest the new law, never mind if the law is really for the protection of their own children. Some people love to see things only from their own point of view. And there are a few others who just cannot accept change. Nevertheless, things are going to get pretty interesting soon.