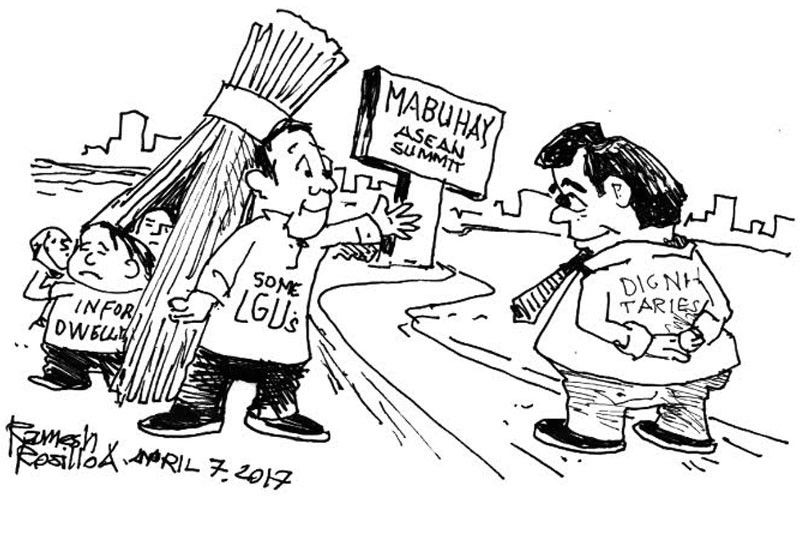 EDITORIAL - The poor made conspicuous by hiding them
(The Freeman) - April 7, 2017 - 12:00am
The problem with trying to sweep urban blight under the rug whenever foreign dignitaries are in town for important events such as the ongoing ASEAN meetings is that the shit hits the fan instead. So when the different local governments in Cebu rounded up street dwellers who lined the different ceremonial routes to be taken by the dignitaries, the media quickly picked up the story and blew it up in everyone's faces.
Instead of keeping an "embarrassment" out of sight, it is now on everybody's lips. Now the dignitaries know what the host government is capable of doing to its own citizens in its effort to put up a face. Thankfully the foreign dignitaries are steeped in diplomatese, so the backroom conversations are presumed to be polite and hushed.
But why does the government really have to hide anything? Does it really believe that the foreign visitors have not done their own research? These foreign dignitaries are highly educated professionals who probably know more about where they are going than most of the people in the places they are going to know themselves.
These visitors know that in the Philippines, where the incidence of poverty is very high, they are likely to see street dwellers along the routes they are likely to take. When they discover that there are no more street dwellers as they speed by in their escorted convoys, they would not be as naive as our government think they are and take the cosmetic adjustments at face value.
These dignitaries will immediately know that the host government has just done something very artificial and temporary. And that could tell on their view of our country. They might conclude that the Philippine government is not trustworthy, that if it is capable of trying to hide something as universal as poverty, then God knows what it might try to hide that is particular and endemic to that country.
Hiding urban blight is a very wrong move by the host government. Hiding it only makes it more conspicuous by its absence. Had the host government merely let things be, chances are the visitors, having already known what the real conditions in the Philippines are, might have taken things for granted, would have simply sped by in their convoys without noticing anything. Instead, we only succeeded in calling attention to our hypocrisy.