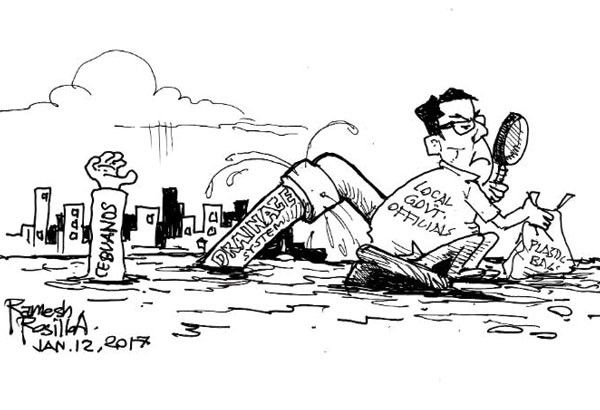 EDITORIAL - With the rains come the floods
(The Freeman) - January 12, 2017 - 12:00am
Rains spawned by a low pressure area have triggered floods in many areas of Cebu and neighboring provinces. It is sad that so many people have been affected by this natural consequence of water falling from the heavens. For as long as it rains, there will always be floods, and it is up to society's leaders to find ways to mitigate the effects.
This can be done by adequate drainage systems that measure up to the threat and the political will to implement them. This cannot be done by drainage systems that are meant for a show, to give the illusion that something is being done. And without thought of political repercussions, communities that are in constant threat of flooding must be moved to higher or safer ground.
And enough of the hypocritical window-dressing ostensibly for the sake of the environment. Some of the places that went under water are the same places that put on a grand display of banning the use of plastic bags because, according to the people behind the ban, plastic bags clog waterways and cause floods. But in all the news reports about the floods, most of them containing quotes from experts, it was the heavy rains generated by the low pressure area that was tagged as the culprit.
In none of the stories was there ever any mention of plastic bags. And that is because plastic bags do not cause floods. If ever plastic bags find their way into waterways, it is because people threw them there. And why do people throw them there? Because they are undisciplined. And they are able to do so because all that the authorities do is talk. Nobody has ever been apprehended for throwing a plastic bag into a canal.
And why do plastic bags accumulate in waterways after undisciplined people throw them there? Because there is no one who does a regular cleaning and dredging of waterways. The people who are tasked to do so are doing something else most of the time. And when the rains come and the floods ensue, it is the poor plastic bag that gets the blame for clogging the waterways.
But even that is not true either. No plastic bags are strong enough to withstand the onslaught of floodwaters. If even strong structures like houses can get washed away, how much more for a simple accumulation of plastic bags. The truth is, the show window drainage systems are simply inadequate to hold all the water that heavy rains can generate and so they spill over. That can be illustrated by any simple grade school experiment.
What an irony that the very people who have been deprived of the use and convenience of plastic bags, ostensibly for their own good so that they will suffer no more from floods, were the very first people to suffer from floods that plastic bags did not cause. Those who imposed the ban and have no need for plastic bags because they have cars when they shop also live in better situated homes and probably stayed high and dry. If only hypocrisy did not make the helpless suffer first.