The IBP-Cebu City Chapter headed by its president Michelle Mendez-Palmares formally launches the 1st Virtual Law and Justice Run.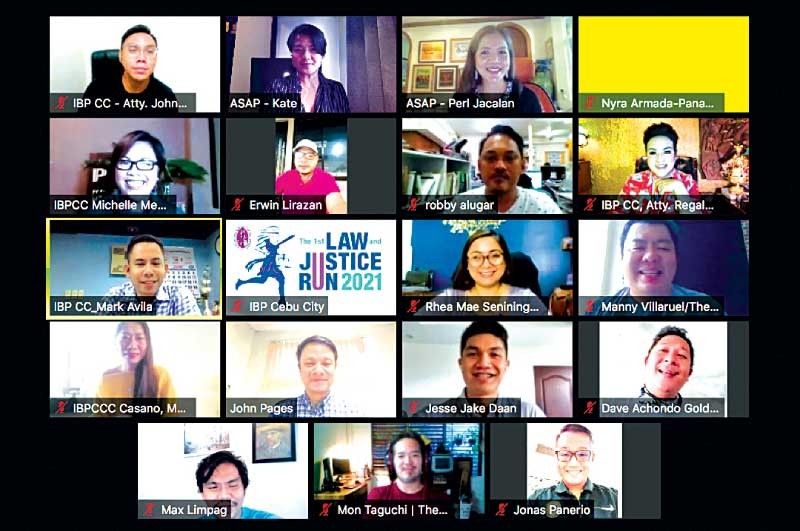 CEBU, Philippines — The Integrated Bar of the Philippines (IBP)-Cebu City Chapter will be drumming up its advocacy for law and justice in a unique, special way.
To advance their cause, the group of topnotch lawyers will be staging the 1st Virtual Law and Justice Run from July 15 to 21, a charity event for the benefit of IBP-Cebu City Chapter's free legal aid for the indigents and its Big Brother program as well.
The run for a worthy cause that is open to all wherever they are in the world was formally launched by the IBP-Cebu City Chapter headed by its dynamic president Michelle Mendez-Palmares in a virtual press conference via Zoom yesterday.
The affair was also graced by IBP-CCC officers Regal Oliva, Mary Grace Hermosa Casano, Rhea Mae Senining Judilla, Christine Naranjo, John Majed Ungab, and Mark Avila, Sportswriters Association of Cebu (SAC) President John Z. Pages, and Perl Jacalan of ASAP Advertising who helps out in the organizing the fund-raiser.
"Inspired by this year's Virtual Cebu Marathon that celebrated the 500th year from the time when Magellan landed on the shores of Mactan in 1521 and brought Christianity to the Philippines, the IBP Cebu City Chapter commemorates the 500 years of Christianity and brings the first ever virtual Law and Justice Run," Mendez said.
The run features five distances:the 3K fun run/walk, the 5K and 10K non-medal, and the 15K and 21K medal category. There will be a cut-off time of four hours for the 15K and six hours for the 21K.
Participants can run at their own race, time, place and pace.
However, runners must complete the distance they are registered in at one time (not staggered) between the dates of July 15 to 21. To record their performance, they may use a Garmin, Strava app or any device that will measure the distance.
Each finisher will receive a commemorative Law and Justice medal, souvenir shirt, and e-certificate in the 15K and 21K, a shirt and e-certificate in the 5K and 10K, and an e-certificate in the 3K. There will also be special prizes for the biggest chapter contingent and most creative among others.
Entry fee is pegged at P280 for the 3K, P520 for the 5K and 10K, and P780 for the 15K and 21K.
Registration period is from June 8 to July 13. To register, one may go to the ibprun2021.myruntime.com.