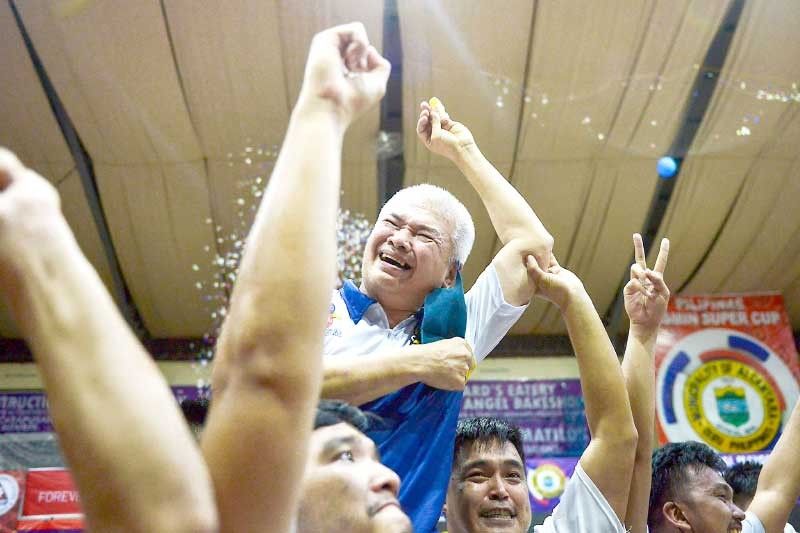 KCS-Mandaue head coach Mike Reyes gets a victory ride from his jubilant players after they made history as the first ever Visayas champions of the Pilipinas Vismin Super Cup last Sunday night at the Alcantara Civic Center in Alcantara, Cebu.
Vismin Super Cup media bureau
KCS-Mandaue shares recipe in cooking up sweet success
CEBU, Philippines — Defense, faith, big heart, and team effort.
These are the main ingredients sprinkled by the KCS Computer Specialist-Mandaue City in coming up with a delightful historic feat they savored in the just concluded Visayas leg of the Pilipinas Vismin Super Cup, the country's first professional basketball league based in southern provinces.
Two nights ago, KCS-Mandaue stunned the powerhouse MJAS Zenith-Talisay City Aquastars, 89-75, in the rubbermatch of their best-of-three finals series to etch their name in stone as the first ever Visayas champions of the upstart league played in bubble set-up at the Alcantara Civic Center in Alcantara, Cebu.
KCS coach Mike Reyes said from the very beginning it's really their desire to make history. That is the kind of mindset he implanted to his players going into the final battle.
"Yun naman pinag-usapan namin, 'Let's try to make history. Unang-una 'to!'" Reyes shared. "Sabi ko lang sa players, 'Let's give them 40 minutes of hell!'"
The Computer Specialists responded to the daunting challenge with great resolve.
Unleashing an incredible 27-11 scoring run in the third period, KCS-Mandaue turned the expected close contest into a one-sided match. They surged ahead by as much as 22 points, 88-66, before closing out a resounding 14-point triumph that left their heavily favored rivals flabbergasted in disbelief.
"Our defense did it for us," said the younger brother of former Gilas Pilipinas mentor and current TNT Tropang Giga coach Chot Reyes in the PBA.
True enough, coach Mike and his platoon of gallant hardcourt warriors limited the best offensive team in the league to just 68.0 points in the series. MJAS-Talisay, which averaged 90.0 points in their 10-game elimination round sweep that earned them outright finals ticket, did put up 75 points in winner-take-all duel but for a losing cause.
Having faith in all his players is another ace up in coach Mike's sleeve.
Knowing that they could not match the bigger and taller Talisay squad man to man especially that some of his wards suffered varied injuries, Reyes shuffled his 15-man roster in perfect harmony like a great conductor in an orchestra.
"Our 15-man rotation was another big factor for us," shared Reyes, who bagged his first title in the pro league 18 months after he steered the Southwestern University (SWU)-Phinma Cobras to their first CESAFI championship in six years. "I used all the players in every game. I motivate them by letting each individual know that they are needed."
Joseph Airo Nalos, Mandaue's chief floor leader, relished that aspect of Reyes' admirable coaching tactics.
"We went through a lot as a team but we give all our best. Some of us were not even fully healed from injuries but we played hard still knowing that there is no tomorrow in Game 3. We tried hard to become an asset in whatever way we could just to contribute to the team," Nalos said.
"Firstly, we stick to our game plan. And we're very happy that our bench players stepped up bigtime. We're like a family. We don't pull each other down. We keep on pushing each other up. That's the beauty of this team, we know and accept each other's role. And we did it," Nalos added.
"We have trust on each other. That keeps us going towards success," chimed in the sharp-shooting Shaquille Imperial, the hero when KCS-Mandaue handed MJAS-Talisay its first loss via a 67-66 cliffhanger in the opener of their race-to-2 series.
I'm a member of a team and I rely on it because the team, not the individual, is the ultimate champion," wrote Monic Soliva on his Facebook page.
Back-up point guard Gileant Delator said he made the most of the opportunity when Reyes fielded him in the crucial moments of the game.
"First of all, I would like to thank God for giving me a winning mindset. I really did not expect that coach Mike will give me playing time in the crucial minutes of the last quarter," said Delator. "When I checked back in to the playing court, I instilled in mind that it's our last game already and I must play until my last ounce of strength. I worked doubly hard on defense because the offense will just follow. I'm just happy I've done my part."
Of all the vital elements that keyed the highly successful campaign of the Computer Specialists owned by Ricky Verdida, their fighting spirit is absolutely in the list. They played their hearts out.
"Basketball is a game of adjustments specially in the championship and I think it's a big help that you have a coaching staff that you trust. Together with my fellow assistant coaches Bong Begontes and Vince Urot, we are so blessed that we are guided by coach Mike Reyes. That's what he did to us," said KCS deputy coach Jabby Bautista.
"Most of the coaches tackle physical attributes. Some touches the mental side but under coach Mike, we tackled the heart," added Bautista.
Talking about heart, coach Mike readily admits that it is his crowning glory.
"Of course, talagang it's really satisfying. I'm getting the hearts of the players and that is why they responded," said coach Mike. "That is what I am truly believing in, that I captured their hearts."