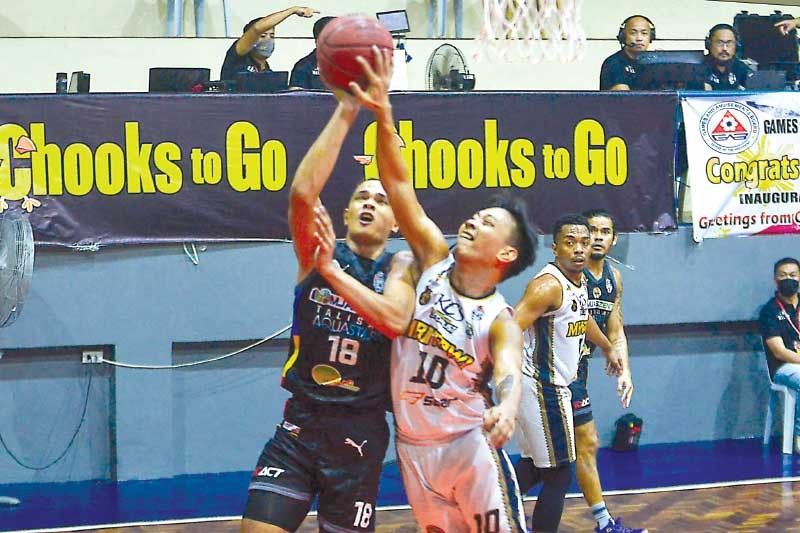 Egie Boy Mojica of MJAS-Talisay gets blocked by Joseph Nalos of KCS-Mandaue during Game 2 of their best-of-three finals series in the Pilipinas Vismin Super Cup-Visayas leg last night at the Alcantara Civic Center in Alcantara, Cebu.
Pilipinas Vismin Super Cup media Bureau
CEBU, Philippines — The MJAS Zenith-Talisay City Aquastars punched back at the KCS Computer Specialist-Mandaue City, 63-56, to forge a deciding match in their best-of-three finals series for the historic Pilipinas Vismin Super Cup-Visayas leg crown last night at the Alcantara Civic Center in Alcantara town southwest of Cebu.
Tied at one game apiece, MJAS-Talisay and KCS-Mandaue will settle their unfinished business once and for all in a winner-take-all duel scheduled at 7:00 tonight.
Behind back-to-back hits by Bernie Bregondo and Ping Exciminiano, KCS-Mandaue took an early 4-2 lead at the 6:34 mark of the opening canto but immediately thereafter misfired their targets and went scoreless for the rest of that stretch.
MJAS-Talisay made the most of the opportunity, with the Minglanilla-native Patrick Cabahug and homegrown talent Shane Menina banging in five points each in a 13-0 blitz that pushed the Aquastars ahead by 11 points, 15-4, after the first 10 minutes of action.
The Computer Specialists, however, quickly made the necessary adjustments and staged a daring fightback in the second period to pull within just a hairline, 23-24, on a three-point play by Exciminiano to close the first half.
The two protagonists were locked up in a closely-fought battle in the third and after a couple of lead changes, they figured in a 41-all standoff entering the final 10-minute zone of the contest.
KCS-Mandaue greeted the last quarter with a 7-0 run, but Jhaymo Eguilos, league MVP Jaymar Gimpayan, and Egie Boy Mojica rattled eight straight points to put MJAS-Talisay back on top, 50-48, with under seven minutes left to play.
After KCS-Mandaue's Monic Soliva knotted the count for the eight and last time, 50-50, Menina sank a crisp 3-pointer and then team captain Paulo Hubalde made three points capping a 16-2 blast that gave MJAS-Talisay a 57-50 cushion with only four minutes to go.
KCS-Mandaue threatened for the last time at 56-59 as Hubalde calmly sank a pair of pressure-packed free throws before Menina completed a breakaway layup with 14 ticks remaining to seal MJAS-Talisay's series-extending triumph.