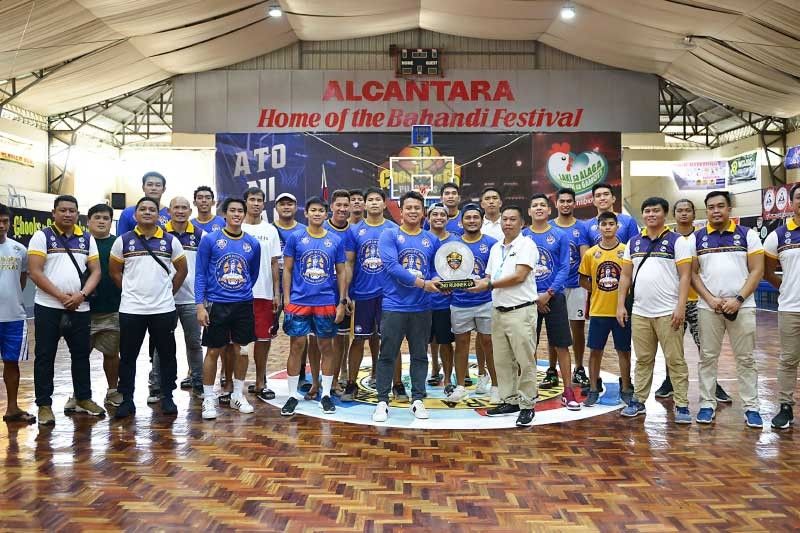 The ARQ Builders Lapu-Lapu City Heroes led by team owner Jason Arquisola and head coach Francis Martin Auquico formally receive their third-place trophy from Pilipinas Vismin Super Cup COO Rocky Chan in a simple awarding ceremony yesterday at the Alcantara Civic Center in Alcantara, Cebu.
Alex B. Tan/Pilipinas Vismin Super Cup media bureau
ARQ Lapu-Lapu blessed and proud for rising above the challenge
CEBU, Philippines — They were hounded by controversy during the early part of their campaign stemming from their farcical game against the Siquijor Mystics.
Yet, the ARQ Builders Lapu-Lapu City Heroes did not let that infamous incident dampen their spirits. They carried on with the tough battle ahead with great resolve.
After being cleared of any wrongdoings, the Heroes fought with renewed vigor and confidence leading to a modest third-place finish in the Visayas leg of the inaugural Chooks-to-Go Pilipinas Vismin Super Cup season staged in bubble set-up at the Alcantara Civic Center in Alcantara town Southwest of Cebu.
And despite being hobbled by injuries to some of its key players, ARQ Lapu-Lapu nearly made it to the championship round. They lived and fight for another day in the semis but eventually got the boot from the twice-to-beat KCS Computer Specialist-Mandaue City in their rematch.
Nevertheless, the Heroes relished with pride what they have accomplished in the fledgling league given all the tribulations they have to endure.
Their second runner-up trophy was no less a sweet redemption for the Heroes.
"We are very happy because we finished third in spite of all the challenges we encountered. First of all, I would like to thank God for giving me this opportunity to coach the ARQ team. Secondly, thank you so much to the Arquisola family especially to boss Jason for his all-out support to the team. He did not leave us when we needed him most," said ARQ coach Francis Martin Auquico.
"Season's finally over for us. Felt gratitude and love!" chimed in assistant coach Jerry Guzman Abuyabor.
"We're still proud to all outstanding gentlemen of the ARQ Lapu-Lapu Builders. Despite the adversities we went through including a series of injuries, we fought good until the semifinal round."
"To our players, we didn't just gain new players but we gained a new family inside our stay in the Alcantara bubble. Thank you so much for the respect and trust to us coaches. Our gratitude also to our team owner Jason Arquisola for never leaving a man behind. I felt blessed to be a part of the coaching staff and one of his trusted wards. Thank you ARQ family for the great experience I'll never forget. For me, the future may still be a mystery but I will definitely take a piece of ARQ Basketball with me wherever I might go," Abuyabor furthered.
Jojo Tangkay, the elder statesman of ARQ Lapu-Lapu, and the rest of his teammates also looked back at their meandering Vismin Super Cup journey with a grateful heart.
"To everyone who believed in me, thank you. Despite all the challenges and hardships, we were able to end up with a strong third-place finish and nearly made it to the finals. I wouldn't have made it without the help of my team and of course the coaching staff as well," said the ageless Tangkay.
"To our boss Jason Arquisola, thank you so much for your kindness. You are an angel sent from above. I am very thankful that you still trusted me and have confidence in my ability despite my age. To our co-team owner mam Mytha Canoy, thank you also for your undying support to the team," Tangkay added.
ARQ's top gunner Reed Juntilla felt blessed that they were able to reach that far notwithstanding the hard road they passed through.
"I am very thankful to my teammates knowing that we have each other's back, bringing positive vibes that somehow cheer us up during our troubled times. We did not give up in the face of trials that God gave us. We're still blessed," Juntilla said.
Dawn Ochea echoed Juntilla's sentiment.
"We have no regrets of not making it to the finals. The important thing is we never gave up until the end. We showed to the people that even if we are down, we can still rise up through adversities," said Ochea.
Rendell Senining, who became the face of that regrettable April 14 match, is highly appreciative that he has found a family in ARQ Lapu-Lapu, whose strong support system helped him get back on his feet and give him courage to move on with a new sense of hope and optimism.
`"During our lowest moment, we did not let all the negativities affect us. We put in our minds only the things we can control and stay focused in our goal. It also helps that we have circle of family and close ones that give us the needed boost," Senining shared. "Inspite of the challenges and injuries that hobbled us along the way, it's a blessing that we almost made it to the finals. We didn't win the championship but we fought with our last inch of strength. We take pride in that."
`"Looking back, what happened was a humbling experience for us. God really has a purpose for each one of us, giving us lessons on and off the court. God will not give us problems that we can't overcome. We're just thankful that good things come out of it," Senining added. "As for me, I learned my lessons well. To my fellow players, don't let your emotions get the best of you. Think first before you act. These are one of the things that I will carry on for the rest of my life."
For showing resilience in the face of adversity, no other else is most proudest than their team owner Jason Arquisola.
"They are not only my players, they are also a family to me. No matter what, they always have my back.We may not have achieved our main goal of winning the championship but I am still proud and happy for them for putting up a good fight and bowing out with their heads up high," said Arquisola.
"I would also like to thank my fellow team owners and the Vismin Super Cup management as well for giving us this golden chance to be part of this wonderful league that lives up to its mission of providing opportunities and livelihood to players in the provinces at this time of pandemic," Arquisola. "Lastly, my profound gratitude to my dear parents Stephen and Grace Arquisola and my beloved wife Eva Mari for supporting all my endeavors in life. Without them, I wouldn't be able to nurture my passion in sports over the years."