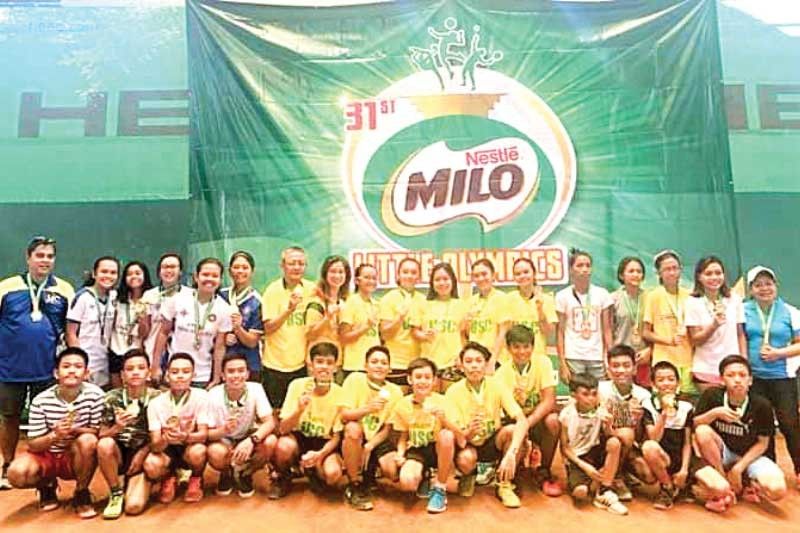 Some of the products of Milo tennis here in Cebu with a bunch of them now based abroad through their tennis skills.
Top Cebuano netters spread wings abroad with Milo Sports as guiding light
CEBU, Philippines — From small time events here, Cebuano netters have conquered not only the national tennis scene, but also the international arena through the years.
They easily dominated the junior level in Philippine tennis one batch after the other until they further spread their wings abroad.
Interestingly, there is one thing in common to most of those who are now based on foreign shores - they are all products of Milo tennis tournaments during their younger days as an athlete.
"Almost all our tennis players here have joined Milo tournaments, from the Milo age-group until the Milo Little Olympics came about," said coach Jun Tabura, who had been honing Cebuano tennisters for decades now together with his father Fritz.
Among the top racquet-wielders who have dominated the different age-brackets in Milo and are now based abroad with their tennis skills as "passport" include the illustrious Siso siblings in Bernardine "Nino" and Sallymae "Em-Em" who are now based in Japan and Janji Soquino, Jericho Bohol and Hanna Espinosa who are now making a living in Bahrain.
Also in the long list are Marc Norman Enriquez, Bo Alburo and Israel Abarquez in Singapore, Francis Largo, Warren Alivio, Ilak Tabura and James Karl Canete in Dubai, Ken Alburo and Jin Querubin in Canada, Christopher Encarnacion in Maldives, Cliff Acaso in Qatar, Kennex Abadia in Hong Kong and Vince Marc Tabotabo, Warren Kintanar, Larry Antigua, and Jan Godfrey Seno in the United States.
Majority of them are now working as tennis coaches, passing on to their young students the values and character that Milo Sports has also imparted to them.
The multi-titled Christian "Babaw" Tiongko and Jacob Lagman have been Milo standouts who earned athletic scholarships in the US some years back. They are now also earning a name in the business industry while another former child wonder, Iggy Pantino, is also expected to migrate to the US soon to pursue bigger dreams in tennis.
Jericho Bohol, who have been topping several competitions in Bahrain lately, fondly recalled how Milo has boosted his confidence in sports and in life as well through the exposure and travels they had.
Likewise, Soquino is thankful to Milo for what he has achieved today as it continues to motivate him to stay as a champion.
"Milo Sports is really a big help to me. I became a Milo champion and was even honored as MVP in 1997 but until now that I already have a family, I am still looking forward to grab more trophies to show to my family and my student tha age doesn't matter to be a champion," shared the 35-year-old Soquino.
"From seven years old until I entered college, I was with Milo for almost 10 years. And from playing Milo Little Olympics and Milo age-groups, I could say I really had the best childhood memories as an athlete," chimed in Em-Em Siso.
Now 27, Siso said Milo events had given them the opportunity to deal properly with life's challenges.
"On-court, every single match I played in Milo, it gave me a lot of life lessons. It helped me build my mental and emotional capabilities which are very helpful to me in dealing with my life," said Em-Em Siso.
Jan Godfrey Seno also brought with him his champion energy and made valuable contributions to his team at Concordia College in New York.
Although his wrist is bothering him for sometime now, Seno said the competitive spirit he gained from Milo events has kept him going.
"Being competitive because I don't want to lose. That is my motivation to always work harder than anyone," said Seno, a former Most Outstanding Athlete of Milo.
Wherever they may be, one thing is for sure. They always put their best foot forward in whatever they do, bringing with them the heart of a champion, "Mula noon, hanggang ngayon".