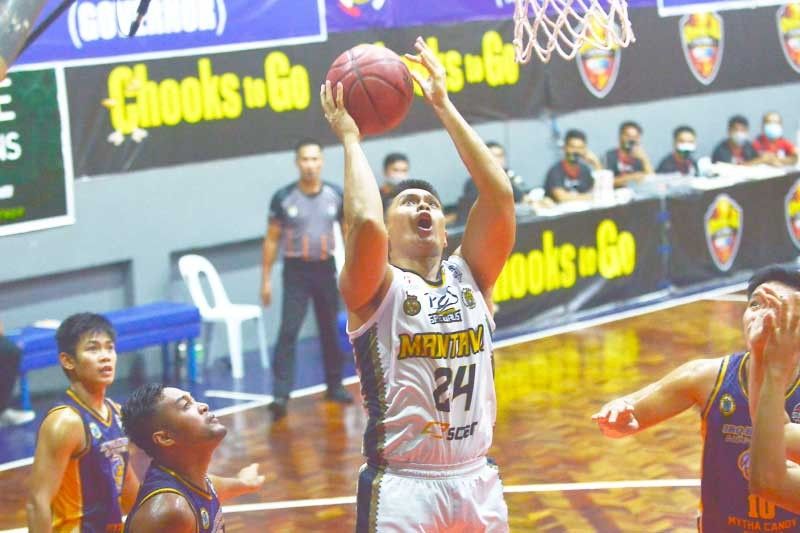 KCS Computer Specialist-Mandaue City gives ARQ Lapu-Lapu the boot to advance to the finals of the Chooks-to-Go Pilipinas Vismin Super Cup-Visayas leg finals.
Vismin Super Cup media bureau
KCS-Mandaue ousts ARQ Lapu-Lapu, sets up finals clash vs MJAS-Talisay
(The Freeman) - May 6, 2021 - 12:00am
CEBU, Philippines — The KCS Computer Specialist-Mandaue City proved sharper down the stretch, making one clutch basket after another to outlast the ARQ Builders Lapu-Lapu City Heroes, 74-64, in the semifinals and advance to the finals of the Chooks-to-Go Pilipinas VisMin Super Cup on Wednesday night at the Alcantara Civic Center in Alcantara, Cebu.
After a sorry showing in their first match-up on Tuesday wherein he managed a measly five points, Gryann Mendoza bounced back in a huge way as he tallied 25 points - on 5-of-7 shooting from beyond the arc - to go with eight rebounds, an assist, a steal and two blocks.
He also made several crucial plays that stymied ARQ's comeback attempt from a 15-point deficit in the fourth canto.
With Jojo Tangkay leading the charge, scoring nine points in the final canto, ARQ pulled to within two, 62-64, with just 3:27 to go. However, Mendoza doused water on the raging fire with a pull-up jumper at the keyhole that raised their lead back to four, 66-62.
Then, after ARQ's Dawn Ochea lost the ball to the baseline, Mendoza drove hard and found a cutting Michole Sorela for an easy two that brought KCS' lead to six, 68-62, with 1:25 remaining.
After Ochea missed a straightaway three-pointer, KCS guard Ping Exciminiano then dropped a picture perfect dime to Al Francis Tamsi who scored on an undergoal stab that proved to be the telling blow to ARQ's finals hopes.
KCS will now move on to the finals where they will face off against the unbeaten MJAS Zenith Talisay City Aquastars. Game 1 of the best-of-three series is on Friday, May 7.
The Scores
KCS-Mandaue (74) - Mendoza 25, Tamsi 7, Sorela 6, Imperial 6, Octobre 5, Exciminiano 5, Soliva 5, Nalos 4, Bregondo 4, Roncal 3, Bonganciso 2, Cachuela 2, Delator 0, Mercader 0.
ARQ Lapu-Lapu (64) - Juntilla 13, Tangkay 12, Ochea 11, Lusdoc 6, Canada 6, Minguito 4, Mondragon 3, Galvez 2, Arong M. 1, Senining 0, Arong F. 0.
Quarterscores: 28-15, 46-32, 57-45, 74-64 — Vismin Super Cup Media Bureau