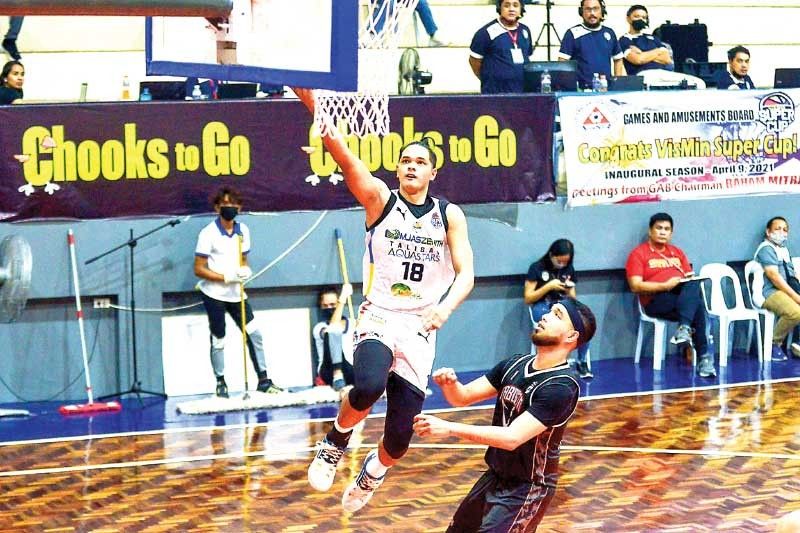 MJAS-Talisay keeps hot streak, win seventh consecutive game
CEBU, Philippines — The red-hot MJAS Zenith-Talisay City Aquastars reaffirmed their mastery over the Tabogon Voyagers, this time in more decisive fashion via a 104-75 decision to stretch their unbeaten streak to seven games in the Visayas leg of the inaugural Chooks-to-Go Pilipinas Vismin Super Cup season yesterday at the Alcantara Civic Center in Alcantara town southwest of Cebu.
On top by only four after the first 10 minutes of play, 20-16, the Aquastars detonated a 27-12 bomb in the second period to blow the game wide open with a 47-28 advantage at halftime. MJAS-Talisay did not give the Voyagers some breathing space from there onwards to breeze through a 29-point cakewalk.
Underscoring their balanced attack, five MJAS-Talisay reserves posted twin digits led by Joshua de la Cerna and Jaymar Gimpayan with 14 points each.
In all, the Aquastars literally drowned the Voyagers in bench-scoring, 84-32.
"This is our third game in four days and we have another game tomorrow. But we were able to manage the minutes of our players and no one played more than 20 minutes," said Aquastars head coach Aldrin Morante.
Jan Jamon tossed in 12 points, six rebounds, and two assists while Patrick Cabahug, Dave Moralde, and Egie Boy Mojica nailed 11 markers apiece as MJAS-Talisay stayed perfect at 7-0.
Arvie Bringas and Joemari Lacastesantos both scored 14 while Christian Diaz dished out a double-double show of 13 points and 11 rebounds but to no avail as Tabogon dropped to 3-4.