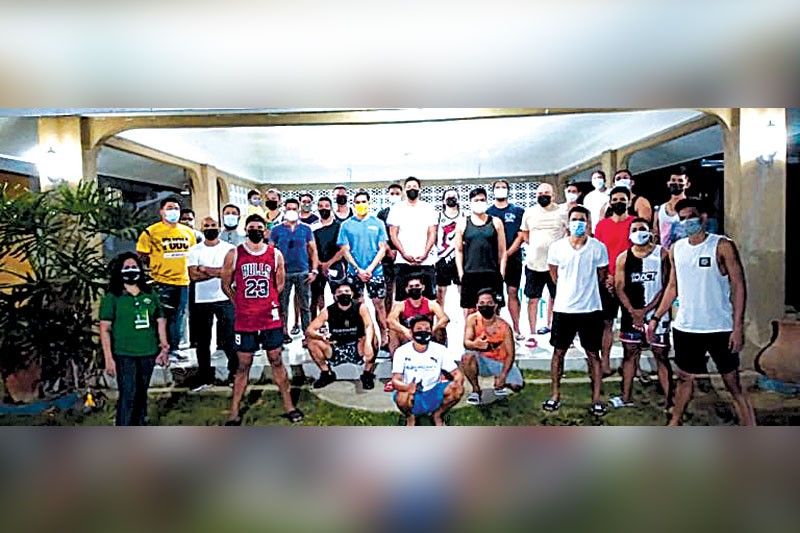 The MJAS Zenith-Talisay City Aquastars led by coach Aldrin Morante and team manager Jhon Santos pose during a welcome dinner fellowship last Tuesday night at Rafols Resort in Barangay Dumlog.
Manny Villaruel
MJAS-Talisay focused on making history
CEBU, Philippines — With high hopes, the MJAS Zenith-Talisay City Aquastars readily declared their mission upon their arrival in the Queen City of the South - to make history as the first ever champions of the Pilipinas Vismin Super Cup.
On Tuesday, the MJAS squad set foot in Cebu for the Visayas bubble play of the country's newest professional basketball league set to take off on April 9 behind closed doors at the Alcantara gym in Cebu's southeastern town situated some 82 kilometers away from Cebu City.
"Ready na ang team," said MJAS coach Aldrin Morante during a welcome dinner fellowship hosted by Talisay Mayor Samsam Gullas at Rafols Resort in Barangay Dumlog where they will be staying for 10 days before heading to Alcantara. "Masaya kami sa pagdating namin dito para makapag-ensayo at mapatibay pa ang aming samahan as a team."
Like any other teams, Morante admitted that they went through a lot of challenges preparing for the league because of all the government's prohibitions during this time of pandemic. "Ang hirap kasi ang daming bawal," he said.
But that does not dampen their spirits in pursuit of their goal to snare the historic Super Cup crown.
"Lahat naman seguro nag-aspire ma-champion," shared Morante, a former Tanduay standout in the PBA. "Sa lahat ng mga saksipisyo at pinagdaan ng mga players, 'yun talaga ang goal namin."
"On behalf of the team, I will assure you that we will bring the championship to the City of Talisay," chimed in MJAS team manager Jhon Santos.
Skippered by Paolo Hubalbe, the MJAS-Talisay Aquastars are bannered by a mix of commercial veterans and ex-PBA cagers in the mold of Val Acuna, Jan Jamon, and Lester Alvarez.
At least seven former Cebu collegiate stars are in the team namely Patrick Jan Cabahug and Tristan Albina (UV), Joshua de la Cerna (CIT-U), Darell Shane Menina (UC), Kevin Villafranca (USJ-R), Reeve Ugsang (SWU-Phinma), and Lugie Cuyos (USPF).
"I will just do what I need to do to help the team," assured Cabahug. "I can also provide leadership to our new players."
The rest of the MJAS-Talisay lineup are Jaymar Gimpayan, Lord Casajeros, Egie Boy Mojica, Steven Cudal, Allan Dominic Santos, Mel Francis Mabigat, and Jhaymo Eguilos.