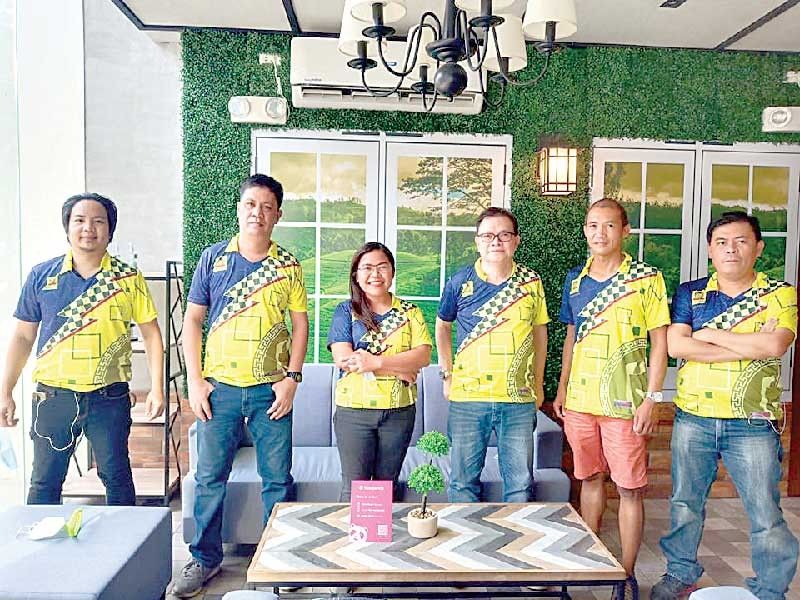 The Toledo City Trojans chess team. From left, Richard Natividad, NM Rogelio Enriquez Jr., co-owner Atty. Jeah Jean Gacang, IM Rico Mascariñas, playing team manager FA Felix Poloyapoy Jr., and team captain Bonn Rainauld Tibod.
Contributed photo
Toledo Trojans join historic pro chess tourney with bigger goal
CEBU, Philippines — More than winning games, the Toledo City Trojans carry with them a more important mission in forming a highly competitive team for the All Filipino Conference of the inaugural Professional Chess Association of the Philippines (PCAP) online tournament that is now being played twice a week on lichess platform.
The Trojans of team owner Engr. Mardee Gacang De la Peña are among the four Cebu squads seeing action in the country's first ever pro chess league that aims to give Filipino chess enthusiasts the opportunity to hone and showcase their skills, and promote the love of the game. The others are the Lapu-Lapu City Naki Warriors, the Cebu City Machers, and the Cordova Dutchess Dagami Warriors.
While they aspire for a decent showing and give Toledo a good representation in the PCAP tilt that drew the crème de la crème of Phl chess, the Trojans have a bigger goal in mind and that is to drum up the sport in their place especially to the young generation with ardent hopes of producing a chess master one day down the road.
"Our main goal really in joining this historic league is to create chess awareness in Toledo and ultimately produce a master/titled player from our city in the future," shared Atty. Jeah Jean Gacang, Toledo's top lady player who is a former member of the University of Cebu (UC) chess varsity team during her college days.
Actually, chess has become vibrant and thriving in the southern city that is Cebu's gateway to Negros Island behind the efforts of the Toledo City Chess Club.
So passionate about the famous European boardgame that even during lockdown amid the pandemic, Gacang said they kept themselves active and relevant by holding online tournaments almost every night.
"I know that there are a lot of talents in our place that just needs to be tapped," said Gacang, who is also the assistant city legal officer of Toledo. "By taking part in this PCAP event, we hope to inspire more players up to the grassroots level to take up chess and make our city proud someday."
Aside from Gacang, the other members of the Toledo City Trojans are playing team manager FA Felix Poloyapoy Jr., team captain Bonn Rainauld Tibod, International Master Rico Mascariñas, National Masters Rommel Ganzon and Rogelio Enriquez Jr., Ronald Ganzon, Richard Natividad, Glicerio Pardillo Jr., Christopher Tubalado, and Jinky Catulay.
"I'm happy that we have players that are loyal and committed to play for the team," said Tibod. "What we're putting in place is a long-term program. We will be competing not only in PCAP but also in other big tournaments in the future."
In their PCAP battle, the Trojans train their sights on the top eight in Southern Conference.
"We've been performing well, so far. Our objective is to reach the top eight. If we make it, then we're going to the playoffs against teams from the North," Mascariñas said.
As of now, the Trojans are well within their target.
They are currently tied with the Lapu-Lapu City Naki Warriors on identical 3-2 win-loss marks, good for a joint fourth and fifth spot in the Southern Conference standings behind the Camarines Soaring Eagles, Iloilo Kisela Knights, and Negros Kingsmen who all have perfect 5-0 records.