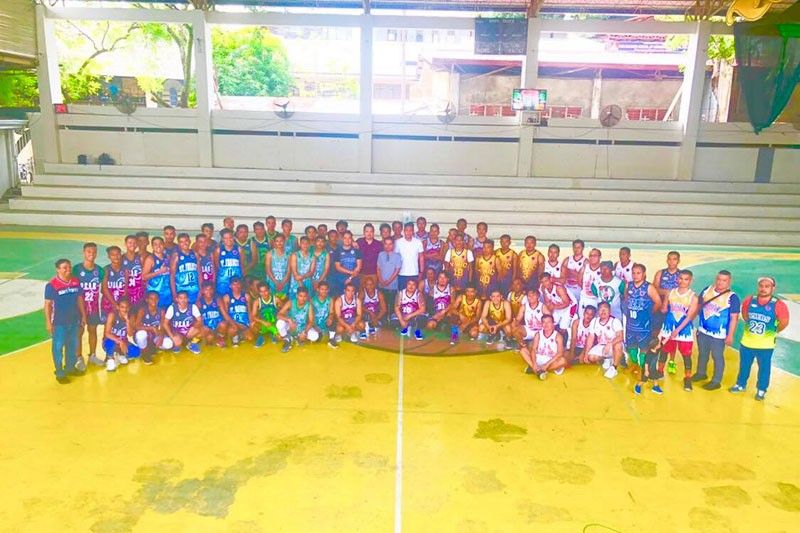 The participants of the first ever Amicis Basketball League pose for posterity during the league's opening ceremony last Sunday at the Consolacion Sports Complex. They are joined by ABL commissioner Lee Mar Dahilm, technical committee chief Aurelio Eslawan, SK Federation President Carlos Donn Flores, and Consolacion's consultant for sports and barangay affairs Paul Alelu Flores.
Contributed Photo
Thor Olshoppe, SPEAK off to flying starts in Amicis hoop
(The Freeman) - December 3, 2019 - 12:00am
CEBU, Philippines — Thor Olshoppe and Team SPEAK served early notice on their serious title campaigns after trashing their respective rivals at the start of the first ever Amicis Basketball League (ABL) last Sunday at the Consolacion Sports Complex.
In the 30-above category, Cocoy Padin sizzled with 24 points laced with nine assists, three steals and one rebound as Thor Olshoppe pummeled Jamal's Lechon, 95-57.
Four other players cracked double figures for Thor Olshoppe, which is coached and owned by Melvin Cataluña.
Jorge Ermac posted 16 points, seven assists and three rebounds, Neil Siacor scored 14 while Philip Recto and Larry Bregente chipped in 10 markers each as Thor Olshoppe never looked back after cruising to a 39-21 halftime lead.
Thor Olshoppe even grew hotter as the match progressed on the way to roast Jamal's Lechon by 38 points at the final buzzer.
Ricky Rubio paced Jamal's Lechon with 14 points while Mark Cuer and Joseph Pepito nailed 12 points apiece in a losing effort.
On the other hand, Joemar Batiquin unloaded 25 points, seven assists, four steals and three rebounds to power the SPEAK squad to a 111-50 demolition of SFG in the 29-under division.
Jojo Pedrano banged in 22 points, Kent Aragon had 14, while Lester Cañete, McLister Gica and Sealtel Yap combined for 34 points for SPEAK, which is coached and owned by Ryan Perez.
After coasting to a hot 20-9 start, SPEAK pummeled SFG quarter after quarter to dish out a 61-point rout.
Chris Uy and Mark Monterola were the only bright spots for SFG with 14 and 11 points, respectively.