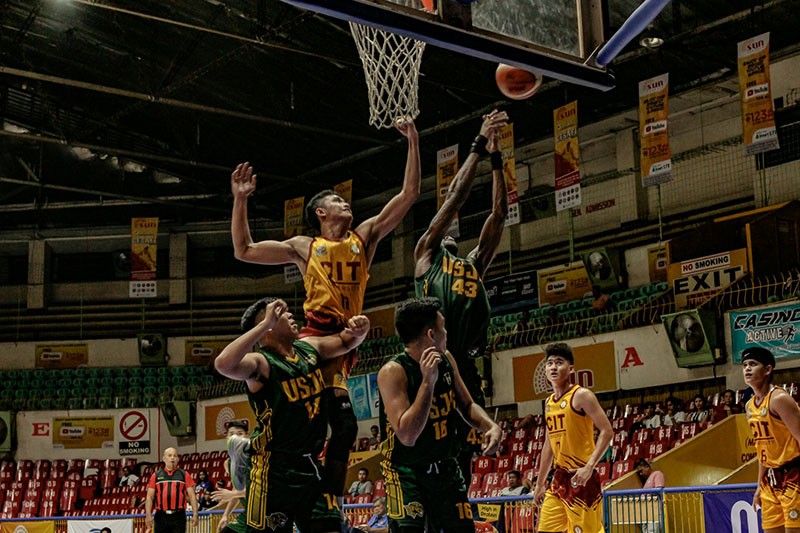 CIT-U and USJ-R players battle for ball possession during their CESAFI collegiate basketball match last Saturday at the Cebu Coliseum. CIT-U won, 82-79.
Anne Paradiang/CESAFI Media Bureau
Wildcats stage great escape to exact revenge at Jaguars
CEBU, Philippines — The Cebu Institute of Technology-University (CIT-U) Wildcats overcame a seemingly overwhelming odds to get back at their first round tormentors, the University of San Jose-Recoletos (USJ-R) Jaguars.
Down by as much as 22 points in the second half, the Wildcats staged a courageous fightback, then banked on a strong endgame finish to turn back the Jaguars, 82-79, in the 19th Cebu Schools Athletic Foundation, Inc. (CESAFI) men's basketball tournament over the weekend at the Cebu Coliseum.
It was a sweet redemption of sort for the Wildcats, who were downed by the Jaguars, 72-67, in the league's season-opening match last August 31.
Interestingly, the Wildcats exacted revenge at the Jaguars without two of their key players in Jemcerson Sable and Mark Christian Kong who were attending their graduation rites with a degree of engineering and HRM (Hotel and Restaurant Management), respectively.
But behind the third-quarter explosion of Jessie Aloro Jr., the Wildcats chiseled away the huge deficit down to only a hairline, 61-62, heading into the final 10-minute mark of the contest.
Just as when they put themselves in the thick of the fight, the Wildcats were dealth with a heavy blow after Aloro limped out of the court with a sprained left knee. He did not play for the remainder of the match but still managed to topscore for CIT-U with 25 points.
Aloro's absence did not dampen the spirits of the Wildcats though as coach Edsel Say Vallena was able to pull several aces up his sleeves.
"We're not cut out for only a few, select players. We play as a team," said Vallena. "Each of them is always ready to step up in place of another."
True enough, the likes of Karl Malone Ventura, Clark Adrian Con-ui and John Carl Escalona stepped bigtime and delivered the goods for the Wildcats when it mattered the most.
Con-ui sank a booming triple before Escalona and Venture went 4-of-4 from the foul line in the final 30 seconds of the match to stamp CIT-U's close yet breath-taking triumph, their second in eight games.
Previously listless in four starts, the Wildcats, the only team without a foreign student-athlete, first gained a certain measure of respect from their rivals when they stunned the heavily favored Southwestern University (SWU)-Phinma Cobras, 67-62, during their first round encounter last September 28.
After that, the Wildcats dropped back-to-back games, including against the Cobras, before finding back their rhythm to repulse the Jaguars.
"I always tell my players to give their best each game. It's a good thing that we earn the respect of our rivals but it's much better if we score a win," said Vallena. "Because if we keep on losing, our practice only gets harder and tougher. Through that, they will learn their lessons well. That's the way I motivate them from the very start." (FREEMAN)