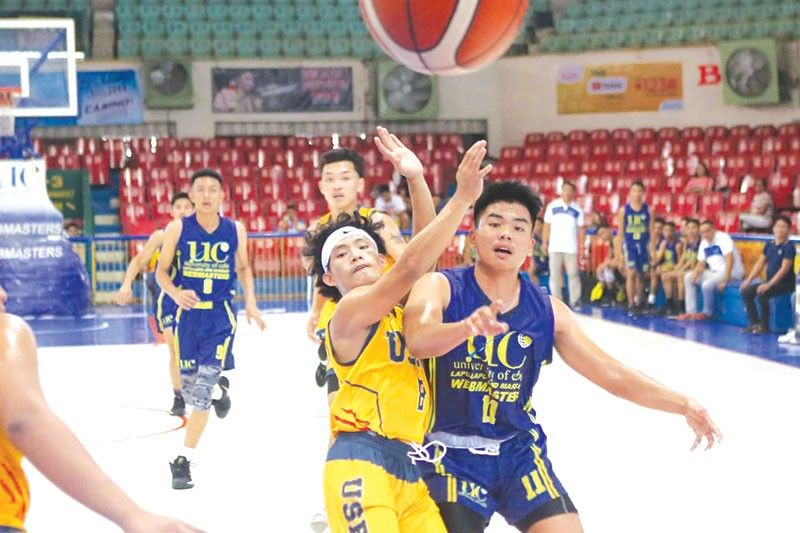 Kyle Nino Ochavo of USPF and George Yongco of UCLM wrestle for ball possession during their CESAFI basketball match yesterday at the Cebu Coliseum. USPF won, 68-65.
Contributed Photo
USPF, SWU survive foes in CESAFI double thriller
CEBU, Philippines — The University of Southern Philippines Foundation (USPF) Baby Panthers and the Southwestern University (SWU)-Phinma Baby Cobras prevailed over their respective rivals in a double thriller in the 19th Cebu Schools Athletic Foundation, Inc. (CESFI) men's basketball tournament yesterday at the Cebu Coliseum.
Kyle Ochavo rifled 19 points and Ramon Singson chipped in 13 markers for the Baby Panthers, who overcame a furious second-half assault by the University of Cebu Lapu-Lapu and Mandaue (UCLM) Campus to walk away with a 68-65 triumph.
The Baby Panthers raced to a comfortable 36-20 lead at the break but found the debuting UCLM a tough customer to handle in the remainder of the match.
UCLM staged repeated rallies in the closing minutes of the contest but the Baby Panthers deftly quelled them off to squeeze out a three-point win, their third in four starts. UCLM suffered its third setback in a row.
Like the Baby Panthers, the Baby Cobras also improved their record to 3-1 after stunning the University of San Jose-Recoletos (USJ-R) Baby Jaguars, 83-77, behind their sterling endgame performance.
The Baby Cobras trailed most of the way in the fourth quarter but held the Baby Jaguars scoreless in the final two minutes of play to snatch victory from the jaws of defeat.
The Baby Jaguars were actually on the verge of triumph with a 77-73 advantage at the final 1:57 mark of the contest but the Baby Cobras closed the match with a 10-0 bang to baffle their foes in the end.
Dezeo Villanueva topped the Baby Cobras with 25 points. He was heavily backed up by Kendall Limana and Charles Libatog who combined for 30 markers.
Kendrick Abarquez scored 15, Kevin Guibao nailed 14 markers while Santos Go and Anton Co finished with 12 points each but their efforts went down the drain as the Baby Jaguars stayed winless in two games. (FREEMAN)