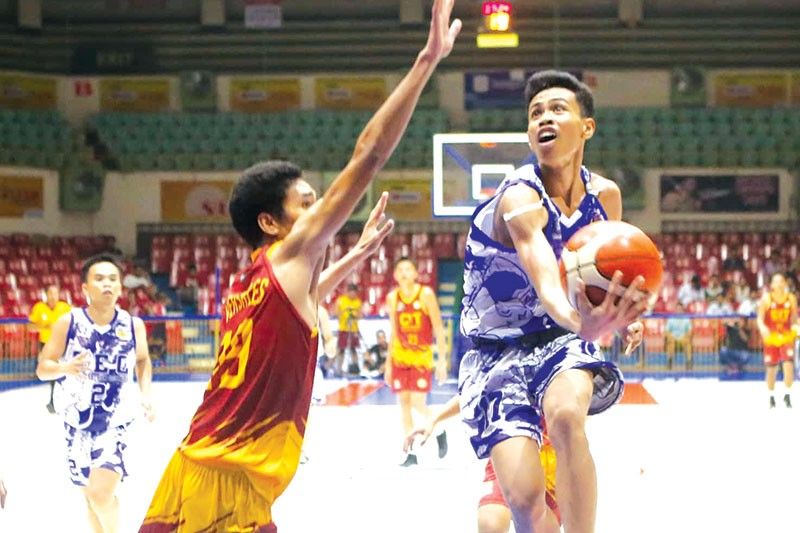 Winston Bingil of the CEC Dragons goes up strong into the hoop during their CESAFI basketball match agains CIT-U last night at the Cebu Coliseum. CEC won, 70-66.
Contributed Photo
Dragons spank Wildkittens for second straight victory
(The Freeman) - September 18, 2019 - 12:00am
CEBU, Philippines — The Cebu Eastern College (CEC) Dragons weathered a spirited resistance by the Cebu Institute of Technology-University (CIT-U) Wildkittens all game long to grind through a scrappy 70-66 win in the 19th Cebu Schools Athletic Foundation, Inc. (CESAFI) men's basketball tournament last night at the Cebu Coliseum.
Paul Apolonio topped four CEC cagers in double figures with 13 points as the Dragons nailed back-to-back victories that somehow erased the sting of their three-point loss to the Don Bosco Greywolves in their opening assignment.
Dwight Blaire Buisa and Peter Rosillo each scored 12 while Winston Bingil pumped in 10 markers for the Dragons, who nearly collapsed after carving out a 12-point advantage early in the fourth period.
Ahead 54-42 with still eight minutes left to play, the Wildkittens whipped up a daring fightback behind the efforts of Clark Versales and Christian Claro to forge a 57-all standoff at the final 4:23 mark of the contest.
The Dragons, however, quickly restored a five-point edge, 66-61, on a pair of gift shots by Bingil with 1:06 to go.
The Wildkittens threatened for the last time at 64-66 as Buisa scored an easy basket off a three-in-one play, then calmly sank a pair of pressure-packed foul throws to practically wrap things up for the Dragons, 70-65, with only 18 ticks remaining in the gameclock.
Versales scattered 17 points while Claro and Jade Tirol finished with 12 and 10 markers, respectively, but their efforts went down the drain as the Wildkittens crashed to their first setback after a rousing start against the Southwestern University (SWU)-Phinma Baby Cobras. (FREEMAN)