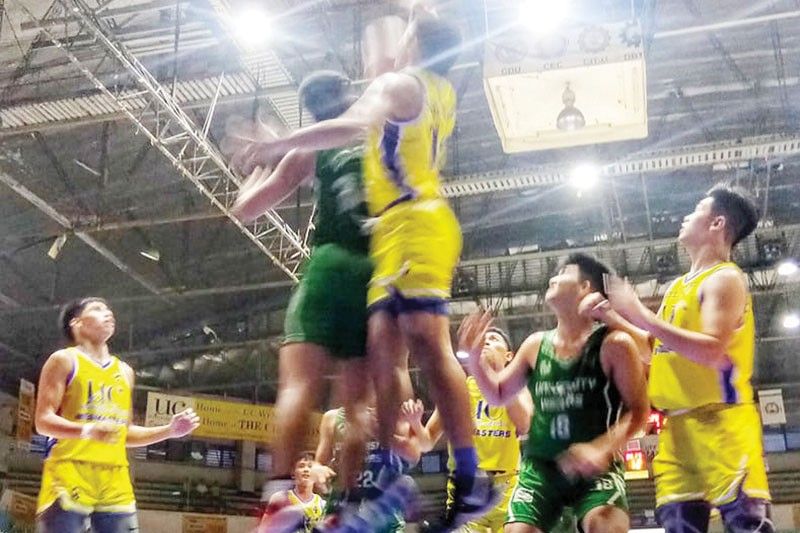 UC and UV players fight for ball possession during their CESAFI juniors basketball match last night at the Cebu Coliseum.
Aldo Nelbert Banaynal
UC jrs. kick off title defense with 41-point blowout of UV
CEBU, Philippines — The University of Cebu (UC) Junior Webmasters fired an ominous warning shot to their rivals after kicking off their title defense with an 87-46 obliteration of an ice-cold University of the Visayas (UV) Baby Lancers in the 19th Cebu Schools Athletic Foundation, Inc. (CESAFI) men's basketball tournament at the Cebu Coliseum last night.
What was expected to be a close rematch of last year's juniors division finals won by UC via a 2-0 sweep turned out to be a lopsided match as the red-hot Junior Webmasters of coach Brad Samonte ripped the game part early on and never looked back resulting into a 41-point blowout.
A 15-5 blitz sparked the sizzling pullaway by UC bantams, who went on to post a 20-9 edge after the first 10 minutes of play.
The Junior Webmasters then rifled six 3-pointers of their 28 points in the second quarter where they held off the Baby Lancers to a measly nine point to blow up their lead to 30 points at the turn, 48-18.
UV's Franzel Basalo scored the first six points of the second half but the Junior Webmasters quickly replied with a 13-2 run to restore an imposing 35-point bulge, 61-26.
UC's relentless offensive did not flinch despite their star player Isaiah Blanco, son of PBA great Dondon Hontiveros, limped out of the court with what appears to be a sprained left ankle with 2:51 left in the third stanza.
Playing an almost flawless basketball the entire 40 minutes, the Junior Webmasters launched their final wave of attack, 21-5, to register their largest advantage of the night, an eye-popping 47 points, 85-38, entering the final two-minute zone of the contest.
It was the worst ever beating suffered by any Lancers team in recent memory.
Nathaniel Micutuan tossed in 17 of his 19 points in the final half to spearhead UC's complete destruction of the hapless UV side.
King Balaga chipped in 16 markers, while Kenvon Pondoc and Allen Gako tallied 22 points in between them for the Junior Webmasters.
Big man Franzel Basalo finished with 15 points while Samuel Melicor came up with 11 points for the Baby Lancers, who were left scratching their heads and will definitely go back to the drawing board and sort out the cause of their disappointing defeat. (FREEMAN)