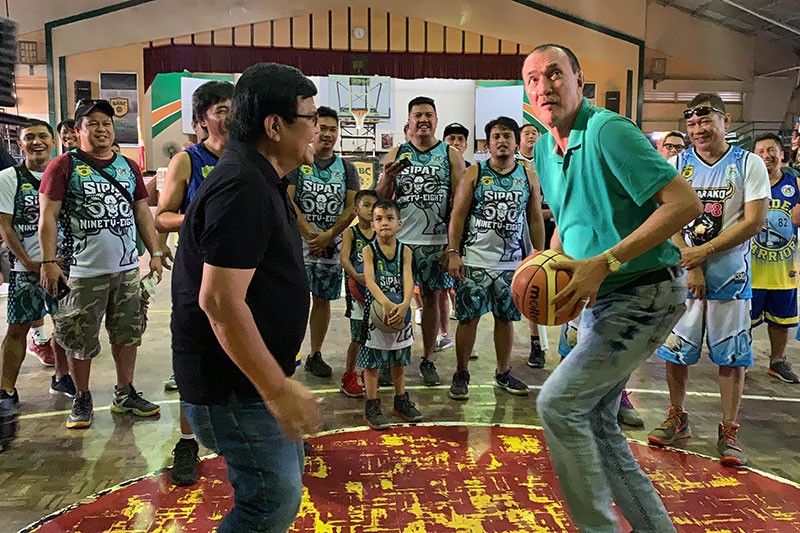 Cebu City Mayor Ed Labella and Philippine basketball legend Mon Fernandez, both distinguished USC alumni, make some moves that elicit laughers from their fellow Carolinians during the formal opening of the USC-NABC 2019 Cebu City Mayor's Cup last Sunday at the USC-North Campus gym.
Contributed Photo
Lopsided victories greet USC-NABC Mayor's Cup
(The Freeman) - August 20, 2019 - 12:00am
CEBU, Philippines — The 2011 Sharks, '88 Barakos, Ronins '97 and the 2002 Goats got off to rousing starts in the University of San Carlos-North Alumni Basketball Conference 2019 Cebu City Mayor's Cup last Sunday at the USC North Campus gym.
Prince Malana dished out 16 points laced with three rebounds and one steal to power the Sharks to an 82-62 obliteration of the 2008 Flyboys.
The Barakos, Ronins and the Goats also produced the same lopsided victories.
The ageless Edmund Odulio fired 18 points, eight rebounds, three assists and one steal as the Barakos battered the 1985 Legends, 72-44, the Ronins slammed the Ninety Niners, 75-56, while the Goats trounced the Rebels 2004, 81-65.
Jake Saturinas showed the way for the Ronins with 20 points, five rebounds, three steals and one assist, while Joel Dinawanao spearheaded the Goats' charge with 14 points, six rebounds, two steals, one assist and one block.
Meanwhilem, the grand opening ceremony of the annual league was garced by Cebu City Mayor Edgardo Labella, Philippine Sports Commissioner Ramon Fernandez and former PBA star now city councilor Dondon Hontiveros.
Also present were the members of the 2019 NABC core group led by USC-NABC President Ernest Evangelista and USC-North Alumni Association president Ryan Villaflores.
All games are under the supervision of Jax Bautista, the league organizer and commissioner. (FREEMAN)