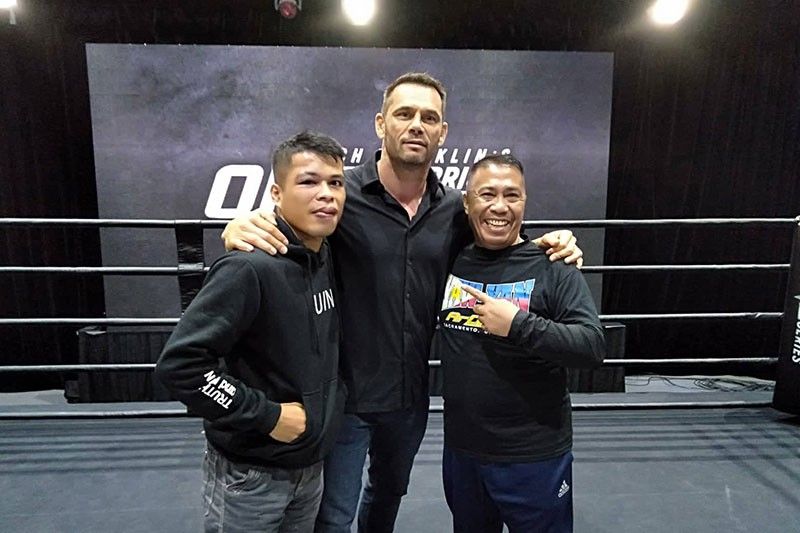 Cebuano MMA prospect Allan Albindo (L) and Master Ekin Caniga (R) with ONE Championship Vice President Rich Franklyn.
Contributed Photo
Albindo rolls closer towards achieving ONE Championship dream
CEBU, Philippines — On the heels of his ground-breaking win in the One Warrior Series last week in Singapore, there's practically no rest for Cebuano mixed martial artist Allan Albindo of Yaw-Yan ArDigma Cebu as he will immediately go back to hard training with one goal in mind - fulfill his ONE Championship dream.
After losing by split decision to Manthan Rane of India during his baptism of fire in the One Warrior Series last June, the 22-year-old Albindo kept his ONE Championship hopes alive with a resounding third round stoppage of Arif Izzudin of Malaysia last August 6 in the Lion City.
"I've learned my lessons well from my defeat to Rane. Also, I have no other choice than to come back stronger that is why I gave my all in my second fight against Izzudin knowing that if lose again, it would be game over for me," said Albindo.
Given a new lease on life, Albindo is hard-pressed to hurdle his remaining two fights (one this September in Japan) so as not to jeopardize his bid of sealing a pact with Asia's biggest MMA organization.
"That is really my goal, to get a fight contract with ONE Championship," said Albino, who fights under the strawweight (56.7 kgs.) category.
Looking back at his early beginnings growing up in the mountain barangay of Anahaw in Argao town south of Cebu, Albindo unequivocally admitted that never in his wildest dreams he would reach this far.
"Watching WWE shows on television sparked my passion for mixed martial arts at the age of 10 years old," said Albindo,the third in a brood of four.
Through the help of Cebuano businessman Jojo Vergara, his former boss while working as a production crew at Balamban Liempo, it was only in 2017 that he enjoyed formal MMA training under the guidance of Master Benigno 'Ekin' R, Caniga Jr., the revered founder of Yaw-Yan ArDigma Cebu.
"What I liked most about training under Yaw-Yan Master Ekin is that he taught me not only about martial arts, but also about self disciple and respect for others," said Albindo, a high school graduate but never had a chance to pursue college studies due to poverty. His parents are both farmers whose meager income couldn't meet both ends of their family.
"My family is one of the reasons why I am fighting. I want to help them financially. I hope that through MMA, I would be able to give them a good life someday."
Master Ekin himself has nothing but praise for his brighest MMA prospect.
"He's a hard fighter, very nice and so disciplined," said Master Ekin. "He can be easily taught because he always listens and follows what I tell him to do. More importantly, he knows how to keep his feet on the ground. He's very humble."
Now that they gird up for a much tougher challenge ahead, Master Ekin and Albindo prepare themselves for whatever will come their way.
"I always instill in his mind to give his all-out best in every fight because it is for his future," said Master Ekin. "And I hope and pray that with his hardwork, commitment and determination, he will accomplish all his aspirations in life one day down the road." (FREEMAN)