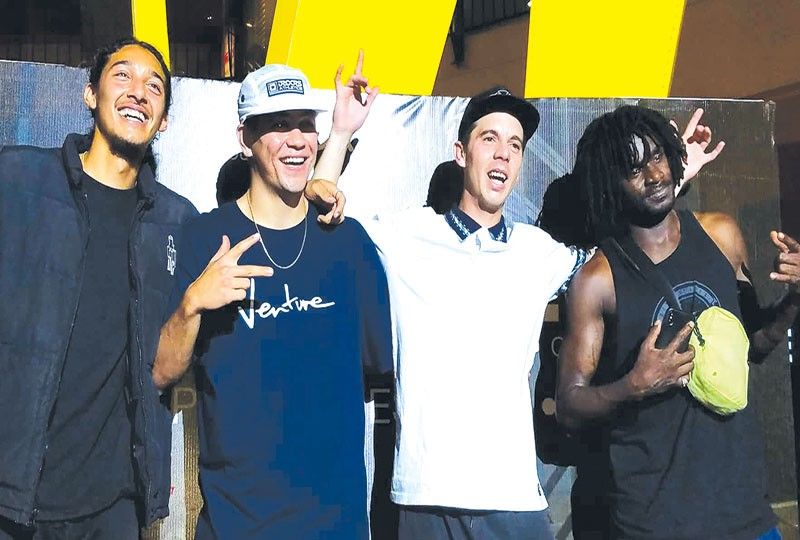 From left, pro skateboarders Alexis Ramirez, Shaun Paul, Alex Lawton and Cyril Jackson pose during a meet-and greet event at the Active Zone of Ayala Center Cebu last Friday.
Caecent No-Ot Magsumbol
Go Skateboarding Day in Cebu a huge success
CEBU, Philippines — The Cebuano skateboarders showed force and gave the visiting foreign pros a taste of the Filipino hospitality with a fun-filled Go Skating Day like no other.
A worldwide celebration to promote skateboarding that started in the United States back in 2004, the event kicked off with the traditional push parade from Fuente rotunda down to the Malacanan sa Sugbo grounds at Plaza Independencia last Friday.
Over 2,000 skateboarders showed up at the "finish line" to the delight of pro skaters Alexis Ramirez, Cyril Jackson, Alex Lawton and Shaun Paul from DC Shoes.
Aside from the pros and the Cebuanos, there were also some skaters from Bohol, Bacolod, Iloilo and Davao who came to celebrate the special day and relish the fiesta-like atmosphere.
"I love it here. You have a super strong community! Just good vibes!," said Paul.
After the push parade, the organizing DC Shoes also organized a meet-and-greet at the Active Zone in Ayala Center Cebu followed by an after-party.
The pros revealed that they have not experienced such kind of GSD back in their own home countries nor anywhere in the world they have been. Ramirez and Jackson are both from the US, while Paul and Lawton are from Australia.
"GSD here is pretty cool!It may be hot, but we had a good time. You guys are awesome!"" said Jackson.
There may be some disagreements along the way but the skateboarders showed that in their sport, there's "no hate, just skate!".