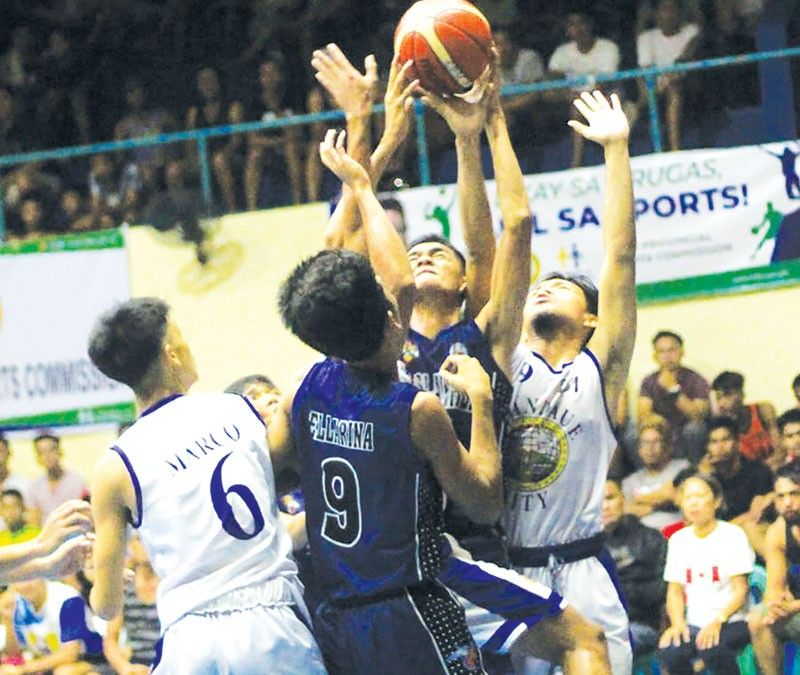 CLASH OF BODIES. Players of Mandaue and Balamban bang each other's bodies as they battle it out for ball possession during their knockout semifinal match in the 2019 Cebu Governor's Cup Inter-Cities and Municipalities Under 21 Developmental Basketball Tournament last Wednesday night at the Mandaue City Cultural and Sports Complex. Mandaue won by a mile, 98-64.
Aldo Nelbert Banaynal
Battle Royale in Governor's Cup Finals Talisay, Mandaue start title showdown tonight
CEBU, Philippines — Talisay, which inched closer towards fulfilling its title retention campaign after thrashing the Balamban Shipbuilders, 91-75, and Mandaue will commence their dream championship showdown at 7:00 tonight at the Talisay City Sports Complex .
The Ballers, however, suffered a crushing blow in their bid to dethrone the Aquastars as Kenneth Brillo, one of their top gunners, will be missing in action in the pivotal Game 1 of their best-of-three series that guarantees a whopping P500,000 cash prize to the victors.
Brillo, who topscored for Mandaue with 20 points in their 34-point obliteration of Minglanilla, will serve an automatic one-game suspension after being ejected from the game. He was first whistled for a technical foul at the 5:32 mark of the third quarter, before being banished from the playing court for an unsportsmanlike behavior with only 2:12 left to play.
Sans Brillo, the likes of Gabriel Cometa, Archie Buscay, Paul Songahid and Lemuel Jake Gonzaga must double their efforts on both ends of the court as Mandaue will try to overcome the overwhelming odds fighting behind enemy lines.
Not only that, the Ballers will have to deal with a formidable adversary in the Aquastars, who are loaded with a wide array of offensive weapons in their armory.
Among the Talisay stalwarts who are expected to give Mandaue a big headache are Kendrick Abarquez, Jay Deiparine, Keaton Taburnal, Clark Louis Ruedas, Elmer Villabrille and Raffy Bacamas.
On their road to the finals though, both Mandaue and Talisay have interesting stories to tell.
Mandaue opened its campaign with back-to-back defeats via a hairline, but showed resiliency by sweeping its next 10 games to punch a final ticket.
Talisay's invincibility, on the other hand, was rocked following an upset 84-85 loss to the Carcar City Lechoneros in the elimination round last March 24 that saw its 17-game winning streak dating back to last season come to sudden red stop.
But fighting with a heart of champions, Talisay bounced back with aplomb, racking up nine straight victories to keep their title defense alive.
Adding flavor to the swashbuckling finale is the battle of two great coaching minds in the league.
Mandaue is the under the tetulage of Gary Cortes, who completed the cycle as a champion player and a champion coach of the University of the Visayas (UV) Green Lancers in his illustrious career. In just his fourth year, he powered the Lancers to a rare grandslam feat in the Cebu Schools Athletic Foundation, Inc. (CESAFI) from 2016 to 2018.
Not to be outdone, Talisay head coach Rey Michael Gurrea was also a champion player during his collegiate years with the University of San Jose-Recoletos (USJ-R) Jaguars. He wrote history when he piloted the Aquastars to the Gov's Cup crown last year with an undefeated 14-0 record.
As showtime begins today, both sides and their legion of well-wishers could only wish that may the best team win.